GeeksPhone One Redesigned Android Smartphone In Wild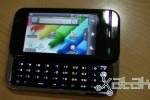 Spanish start-up GeeksPhone prompted some guarded enthusiasm back in June, when they revealed their first-generation Android smartphone prototype, but they've come on a long way since then.  Where the first handset looked distinctly Omnia-like, the reworked model – in the hands of Xataka – is a far slicker affair, complete with a slide-out keyboard.
The specifications – available in detail here – include a 3.2-inch WQVGA hybrid-resistive touchscreen, slide-out QWERTY keyboard, quadband GSM and 2100MHz UMTS HSPA, together with WiFi b/g, GPS and Bluetooth 2.1.  There's also a 3.1-megapixel autofocus camera (and a lower-res front-facing camera for video calls), accelerometer (but no digital compass), microSDHC slot and a 3.5mm headphones jack.
Accordign to Xataka's brief hands-on, the GeeksPhone One is reasonably light and well put-together, with the keyboard not adding too much bulk (actual measurements are 110 x 55 x 14 mm).  The UI is not yet completed, however, and we're still not entirely sure when the smartphone will go on sale.