GearZap iPad KeyCase Review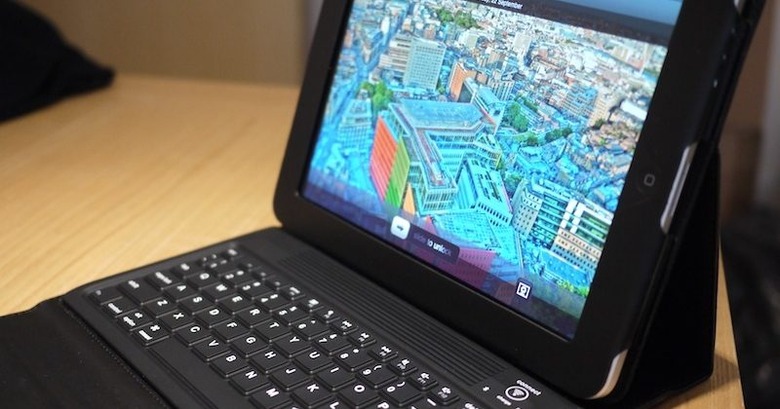 Apple's on-screen keyboards and auto correction technology isn't half bad in iOS, but it's still fair to say that consuming text on the iPad is an easier endeavour than entering it. The Cupertino company's own iPad Keyboard Dock is one way to address the issue, though not especially portable; the GearZap iPad KeyCase – sold by AIDACASE in the US – attempts to remedy that, being a combination Bluetooth keyboard and folio case. Have our typing prayers been answered? Check out the full review after the cut.
There's not much in the box: the case itself, a short USB to microUSB to charge it, and a poorly translated user guide. Made from reasonably convincing black imitation leather, the KeyCase has a strong dual-magnet clasp and a snuggly fitting section for the iPad to slot into. Cutouts leave the home button, power/sleep, microphone and headphone socket, volume rocker, orientation lock and dock connector accessible, and there are holes punched through to line up with the speaker on the bottom edge.
The keyboard itself is decidedly rubbery, the keys more Spectrum ZX than a regular Bluetooth 'board. Layout is a mixture of Apple's regular keys and and iPad-specific buttons, including Home, volume up/down/mute, play/pause, skip-forward, skip-back and search. There's also a keyboard button which can show or hide the on-screen keyboard (which, when the KeyCase is paired, automatically stays hidden during text entry).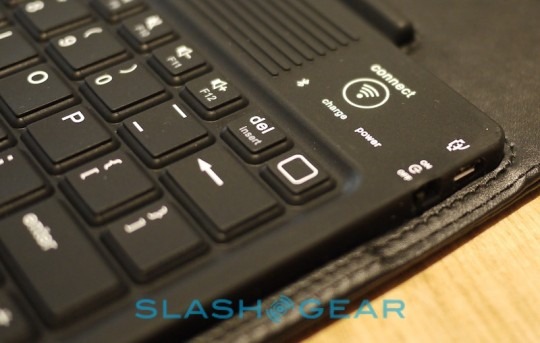 On the top right of the keyboard is a large Connect button, which puts the KeyCase into pairing mode (or resumes the Bluetooth connection should either iPad or keyboard go into sleep mode), and on the side a microUSB port for charging and a tiny power switch. The latter is the one particularly cheap-feeling part of the KeyCase, and we wish they'd gone for a sturdier toggle. Three blue LEDs show Bluetooth, charging and power status.
Pairing proved straightforward, a matter of powering on the keyboard, holding down the Connect button and then choosing the "Keyboard" entry from the iPad's Bluetooth menu in the settings page. After typing in a passcode on the KeyCase we were ready to go; subsequently all we needed to do was turn the KeyCase on and it would reconnect (though you can also force that by tapping the Connect button briefly).
With rubbery keys you can't expect the best typing experience, and sure enough the KeyCase isn't going to replace a proper hardware 'board. Travel is relatively shallow, and there isn't enough clicky responsiveness to each button to feel entirely confident. At 8.25 x 3.5 inches it's obviously considerably smaller than a a full-sized keyboard, too.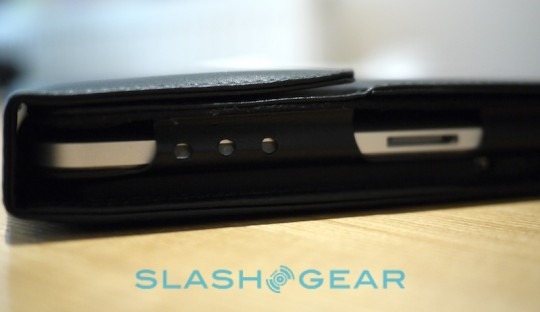 That's not to say it's unusable, however. Once we learned to trust the KeyCase and ignore the lack of feel, we were able to pick up a decent rate that exceeded by a minor margin what we could regularly manage with the on-screen keyboard. Being able to use shortcuts like cmd+left/right to jump to the start or end of a line, option+left/right to jump a word at a time, and ctrl+up/down to page up or down is particularly handy, as is highlighting text using the shift and arrow keys. You can then copy/paste with the regular Mac shortcuts too.
Unfortunately there's no easy way to use the iPad's spelling correction from the keyboard – you have to actually tap the underlined word to see the alternatives – and sometimes iOS' touchscreen-centricity still shows through. While you can trigger a search using the KeyCase, you then can't move down through and select the results with the arrow keys; only tapping the screen works. Similarly you can't dismiss pop-up notifications with the enter key, only with a finger.
You're limited in screen angle, too; there are various rubber ridges above the QWERTY layout, but we found ourselves wishing we could tilt the iPad back a few more degrees. It's fine if you're working at a desk, less so if you were trying to make the most of an airline tray-table.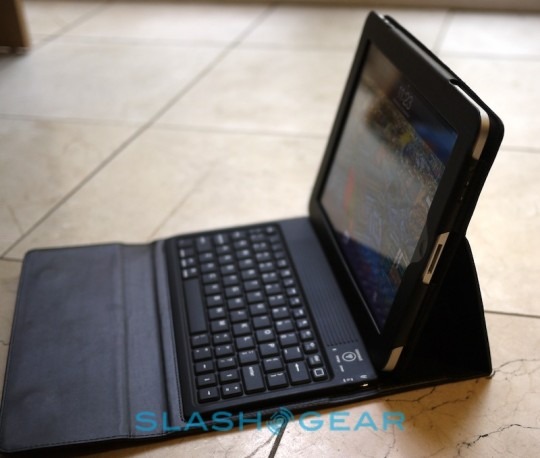 Battery life is estimated at up to 90hrs continuous use or 100 days standby; we're still yet to reach the end of our first charge. While the original KeyCase design had an Apple dock connector for recharging, it was replaced with microUSB for legal reasons. That means you'll have to carry both a microUSB and Apple power cord to charge both KeyCase and iPad, which is frustrating.
The cynics will probably ask why, if you're looking for a hardware keyboard, you opted for the iPad in the first place rather than a (likely cheaper) netbook. There's plenty to be said for having the option to type or simply to rely on the touchscreen, and the KeyCase also does a reasonable job of propping up the iPad for media consumption. At roughly 9.75 x 8 x 1.25 inches it's pretty much in line with a bare netbook, and remember you're also getting sturdy protection for your iPad as well.
At £59.95 from GearZap (roughly $99.99 in the US) that puts it on the expensive side for an iPad case and more expensive than Apple's own iPad Keyboard Dock or regular Bluetooth keyboard. Nonetheless, with the latter you'd still have to buy a case for mobile use. The rubber keys won't be to everybody's taste, but with some practice they're more usable than the on-screen version; text editing is also quicker thanks to the shortcut support. This is unlikely to be the last keyboard case for the iPad we see reach the market, however, and a hard keys version would likely be significantly more productive.