Gears of War 4 PC requirements surface alongside 4K gameplay video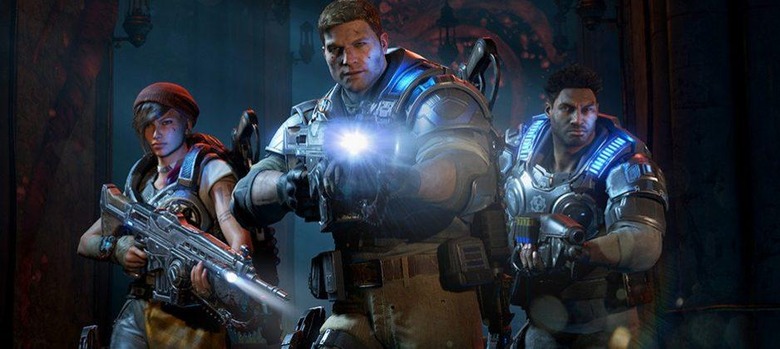 We're only a couple of months away from the launch of Gears of War 4 on PC and Xbox One, and in an effort to keep the hype machine rolling, Microsoft has premiered a new video that features 10 minutes of gameplay footage. The video is more or less what you'd expect a Gears of War demo to be, only there's one distinct feature here that makes this particular video stand out from the rest of the Gears 4 content we've seen so far: it's giving us our first glimpse at what the game will look like in 4K.
The gameplay video follows the game's three heroes – JD, Kait, and Del – as they make their way through an old, abandoned fort. The rather grim scenery foreshadows the obvious, as they encounter some rather horrifying Swarm enemies along the way, the new Drones and Pouncers. With all of that fighting, one has to wonder why Gears of War protagonists are so rarely seen wearing helmets.
Gears of War 4 happens to looks rather nice in 4K, but to achieve the look and feel of the gameplay video, you'll need to have a beefy PC. Microsoft also released the minimum, recommended, and ideal system requirements for Gears of War 4 today, with players requiring a rig with either an AMD Radeon 260X or an NVIDIA Geforce 750Ti just to play the game.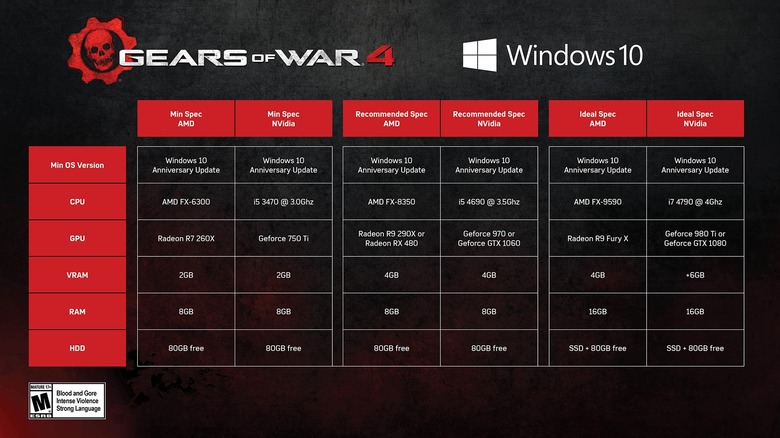 If you want to take advantage of all Gears of War 4 has to offer, you'll need to have some serious hardware, as the ideal specifications list an FX-9590 CPU and a R9 Fury X for AMD builds or a Core i7 4790 along with a Geforce 980Ti or GTX 1080 for NVIDIA builds. That's on top of 16GB of RAM and a whopping 80GB of free space on your HDD or SSD.
Assuming you have the rig, Gears of War 4 definitely shouldn't disappoint when it comes to stellar visuals. We recently got some hands-on time with Gears of War 4 running on NVIDIA's new 10-series GPUs, so be sure to check out what we think once you're done watching the gameplay video above. Gears of War 4 releases for PC and Xbox One on October 11.