Gear4 SoundOrb Aurora Review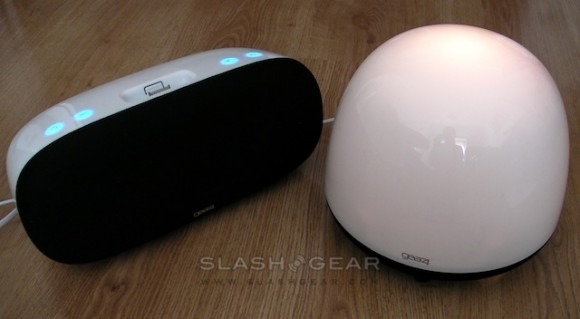 If you want to stand out in the increasingly crowded iPod speaker-dock market, you need a gimmick. That might be superlative audio quality, extreme design or some other sort of novelty; in Gear4's case, they've given the SoundOrb Aurora two claims to fame. Not only does it come with a wireless subwoofer, the sub actually lights up in a variety of different colors. So, enough to catch your attention, but does the Gear4 SoundOrb Aurora do enough to warrant a lasting place in your living room? Check out the full SlashGear review after the cut.
Gear4's concept is pretty easy to follow through. Most iPod speaker-docks suffer from mediocre bass, something you can solve by adding in a separate subwoofer; problem is, that's more bulk than most people can be bothered to accommodate, and there's extra cabling involved too. So, make the sub wireless, and give it a shot of LEDs so that users will actively choose to leave it out on show.
Beyond that premise, the system is pretty straightforward. Both the main unit and the sub are finished in glossy white plastic, and each has a separate AC power connection. Controls are limited to power, audio mode (more on that later) and volume on the main unit, along with color mode and speed/hue control on the subwoofer; each also has a hardware power switch. Gear4 include a small, credit-card style remote which can be used to adjust volume (with independent buttons for each component), audio modes, shuffle/repeat and playback, together with navigating the iPod's menus.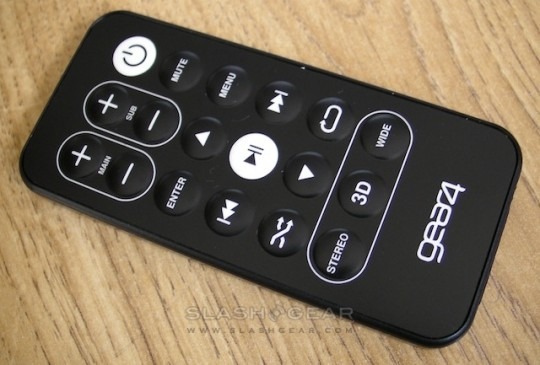 The SoundOrb Aurora is compatible with most iPods and iPhones (barring the shuffle), so if you've an iPod classic, iPod video, iPod nano G3 to G5, iPhone or iPod touch 1G to 3G you're safe, and they include a bag of plastic dock inserts for more recent models. Slotting them in and out can be a little fiddly, however. Meanwhile there's also a pair of stereo RCA jacks on the back of the main unit, for piping through an external audio source like your TV, along with an output for displaying videos from the iPod.
Power up, and the subwoofer is automatically paired with the main unit; there's no need to link the two in any way. Gear4 reckon the range to be around 30m over the proprietary 2.4GHz connection, and it's certainly capable of going through a couple of walls (not that there's much point to doing that). We didn't notice any interference with our wireless router, which was also using the 2.4GHz band. You'll be using the remote or the iPod's own controls for everything bar volume; there's a red LED display to show volume hidden behind the black speaker mesh, and the top-panel controls are lit up in blue.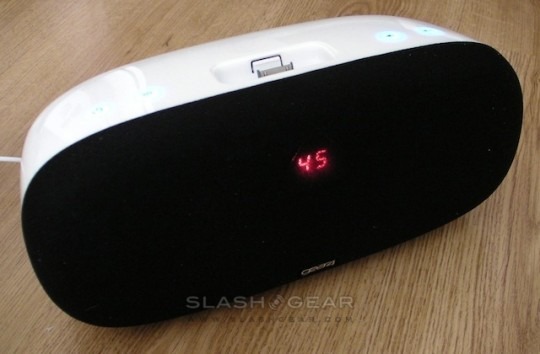 As for the subwoofer lighting, there are three potential modes: off, glow or fix, selected with a three-way switch on the back panel. In glow, the sub automatically cycles through all of its available hues, and the rotary knob adjusts the speed at which the colors change. In fix, the color is kept the same, and the knob allows you to cycle through. Having reviewed the Philips LivingColor v2 lamp recently, we were keen to see how powerful Gear4's LEDs might be; disappointingly the effect is only moderate. In regular daylight there's only a patch of color on the top of the subwoofer which can be easily overlooked; it's only when you get into a darkened room that the whole sub is illuminated.
Unfortunately, the biggest drawback of the SoundOrb Aurora is the audio quality. There's more bass, certainly, than you get in rival systems, but that only serves to underline the relatively weak treble and mid performance from the 2.5-inch speakers. Prone to distortion at higher volumes, even at more moderate volumes there's a noticeable lack of precision and clarity. The three DSP audio modes – normal, "virtual wide stereo" and "virtual surround sound" – tweak the soundstage somewhat, but none can quite get past the shortcomings of the speakers themselves. It's certainly not bad in the grand scheme of iPod speaker-docks, but it's not the leap in quality Gear4 would have you believe. Certainly, when you look at the sticker price – an MRSP of £249.95 ($382) – you can find alternative, cheaper systems that produce the same audio quality as the SoundOrb Aurora.
In the end, it's cost that undermines this speaker-dock system. The color-changing LEDs are a neat gimmick, and the wireless subwoofer is a sensible addition, but neither do quite as much as we'd need them to in order to warrant the price. For our color-lighting needs we'd still look to Philips, and for our iPod speaker system we'd rather spend the money on something which prioritises sound quality above all else. The Gear4 SoundOrb Aurora is distinctive, certainly, but it spreads its skills too thinly to stand out of the crowd.