Gear4 DUO iPod speaker-dock with removable speaker section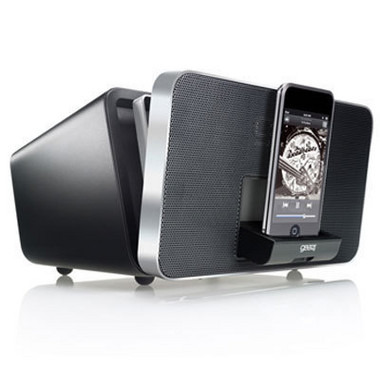 It's tough to think of a new concept in iPod speaker-docks; most of the more reasonable (and some of the ridiculous) shapes have been done, and you can opt for a tiny speaker that clips like a barnacle to the bottom of the PMP or a towering plinth of musical splendour.  However UK firm Gear4 have gone for flexibility with their latest DUO system.  While it may look straightforward, the front speaker section actually unclips from the main body of the DUO and, courtesy of a rechargeable battery, can be used as a portable speaker setup in the garden or anywhere away from the mains.
Back in the house, re-clip the front panel to the main body and not only do you have the li-ion battery recharged but the benefit of a 20W subwoofer too.  The front section on its own is 18W, and has a flip-out dock connector that makes the whole speaker section flat for easy transport.  Gear4 are yet to suggest how long the battery will last in use.
Finished in black and silver, the DUO will launch in Europe on Friday for €200 and the UK for £150.  Gear4 are planning an American DUO for later on this year, priced under $300.  It should work with all the current range of iPods.
[via Electric Pig]