Gdium 'One Laptop Per Hacker' scheme announced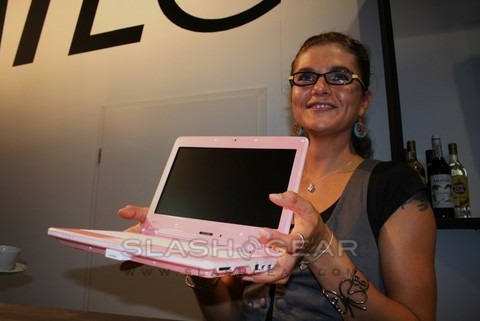 Owing no small amount of conceptual-gratitude to the OLPC project, netbook manufacturer Gdium have announced their "One Laptop Per Hacker" scheme.  The OLPH is intended to not only encourage modification, enhancement and general tweaking of the physical Gdium netbook, but also to promote adoption and experimentation with the Gdium Linux-based OS.  Unfortunately it's not a way to get a free machine: more of a system by which Gdium can control early-adopters.
In fact to qualify to buy a Gdium machine under the OLPH scheme, you have to register and outline your intent for the platform.  Gdium are particularly looking for modifications that emphasize their intent to "accelerate the access and production of knowledge":
The OLPH program is supporting developers, contributors, creative artists, and other innovators who wish to:

Optimize, improve the OS, Human Interface and/or Application stack of an "education centric" netbook.
Experiment with the look and feel
Provide and disseminate their new application stacks
Redesign the artwork
modify the hardware or integrate some nifty gadgets.
Experiment with the Gdium to support new vertical markets.
The Gdium netbook's USP is its G-Key dongle, a removable USB key that holds both the user data and OS files.  In this way, the hardware can be shared by multiple users, each with their own software environment and secure files.  SlashGear spent some brief hands-on time with a prototype back at IFA 2008, and while we were initially sceptical about the G-Key concept it certainly does make more sense in a vertical or educational environment rather than for home use.
[via Notebook Italia]