gCubic 3D Cube Display Gets Touchscreens: Video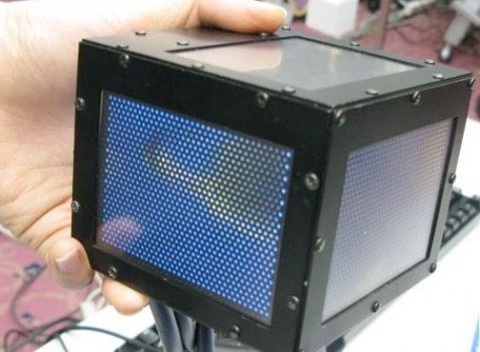 The gCubik 3D mini cube display first showed up last year, when the National Institute of Information and Communications Technology in Japan (NICT) demonstrated the handheld collaborative viewing gadget.  It's now been updated, with six touchscreens, allowing virtual objects "inside" the box to be manipulated and viewed from all sides.
Video demo after the cut
Rather than the three passive displays on the first prototype, the new gCubik has six 3.5-inch touch panels running at 640 x 480 resolution.  When an object is loaded into its memory – such as the plastic duck in the video below – it can be viewed from all sides but also rotated and manipulated by touching the displays.   
NICT have also added 6-axis accelerometers and speakers, and the displays are apparently three-times as bright as the original.  No word on when we could be able to buy one ourselves, but NICT's original plan for the gCubik was to commercialize it in business and science, as well as with video games companies. 
[via CrunchGear]