Gartenberg: iPad is Here and it Delivers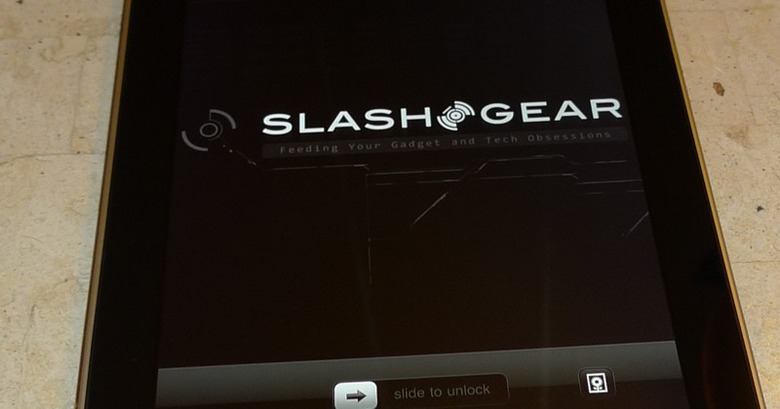 It's the device that fueled nearly a decade of rumor and speculation. While the iPad isn't officially available until today, I'm been pleased to have a final, production unit ahead of the formal launch. I've been testing a 64GB iPad WiFi device and so far I've been impressed with what Apple has delivered.
The iPad is comfortable to hold, and Apple's design team clearly worked hard to balance size and weight. In practice, I found the 1.5 lb form factor extremely easy to work with and use for hours at a time. The screen is bright enough to work fine outdoors and worked well in the dim interior of a plane as well. Performance remains excellent and on a par with the pre-production units I saw at launch. I had no issue with lack of multitasking or running background applications, with the sole exception of third party music applications, which would have been nice. Backward compatibility works very well; I had no problem running iPhone apps (although text heavy apps look a little blocky and oversized). Even demanding games such as Star Wars Trench Run worked just fine. Titles optimized for the iPad such as NOVA are absolutely amazing and the integration of iPhone/iPod Touch and iPad versions of Scrabble shows the potential this platform has for synergy. Forget the Nintendo DSi XL: the iPad now defines large screen mobile gaming.
Syncing with iTunes worked seamlessly, as one would imagine. I had no problem transferring all my existing content, including music, videos, and apps. The large screen makes watching video a delight, but the lack of true wide screen aspect ratio meant a lot of my content either had black bars on the top and bottom or were clipped a bit when I zoomed in. At some point, I'd love to see an iPad with a real wide screen ratio that's optimized for video playback.
As I noted in my original hands on, I prefer a backlit LCD display for reading over eInk. The ability to use as an eBook reader in the dark, with no annoying eInk refresh renders the iPad my eBook reader of choice. The iBooks application is wonderful. I had no problem downloading content. The reading experience was excellent, though I did need to tweak the default font and size settings to my liking.
One thing that differentiates the iPad from distant cousins iPhone and iPod Touch is the care Apple took to make the UI true to the form factor. It's this level of detail that enables the iPad to serve as a 'tweener device between the phone and the PC. Each of the default apps such as mail, notes, calendar and maps have all been optimized with new user enhancements. The enhanced email view is particularly wonderful and allows me to see more of my mail along with a view of my inbox and switch between different accounts with ease. As more third parties tap into the iPad ecosystem, I expect this to further improve over time.
There's no doubt that the iPad works well as a media and content consumption tool, but Apple also touts it as suitable for productivity as well. I've already mentioned email, but what about office productivity? I'm told there's a version of QuickOffice coming but for now, it's an iWork world. iWork – Pages, Keynote and Numbers – for the iPad is a delight to use. Once again, the care that Apple took to optimize the applications for both form factor and user experience delivers a totally different way to work with content. Probably most controversial is the onscreen keyboard. It works well enough in practice for email and shorter documents, but for long form content, you're likely going to want a Bluetooth keyboard or Apple's keyboard dock to crank out text. As it's not available yet, I wasn't able to test the VGA output adapter to see how well the iPad would work for giving a presentation.
I haven't done formal battery life tests, but my overall experience indicates I'd have no problem getting cross-country with an iPad and still have plenty of battery life when I land. That means I can get through a full day without a power cord.
What's missing? Well, I'd still like a camera, in fact, I'd like two, one for photos and one for videoconferencing. While I don't think the lack of multitasking is a huge issue, I'd prefer the ability to keep apps running in the background and a better way to switch among them other than going to the home screen each time. Finally, while the $499 version is a good value and Apple is to be commended for hitting that point, it's pretty easy to max out a fully loaded high-end device and accessories and get into laptop range of pricing.
I regularly use a phone and a laptop; in fact, I keep one of each on my nightstand. Neither is suited for places where I'd like to be connected but where a laptop is too large and the screen of a phone too small. Like Goldilocks, I've found something for my computing needs that's just right in places where laptops and phones wouldn't work. While it's a different model of computing than most of us are used to, I expect the device to resonate well with both sophisticated and novice users.
Looking for a second opinion on the iPad?  Check out the full SlashGear review.