Garmin Vivoactive 3 debuts Garmin Pay in GPS fitness watch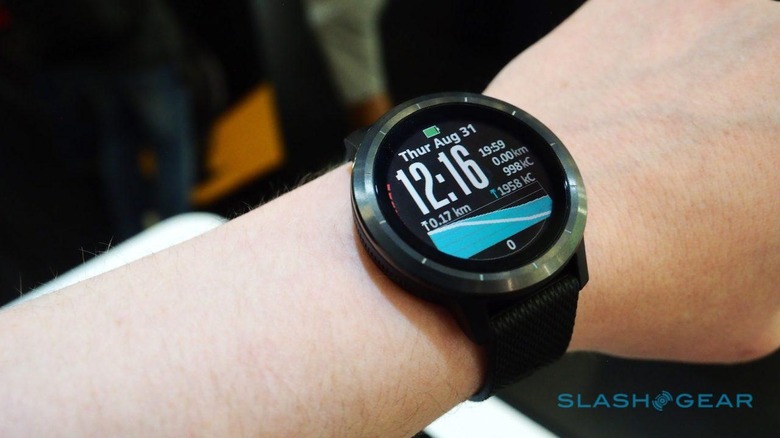 Garmin has taken the wraps off its latest fitness-centric smartwatch, the Vivoactive 3, debuting its own Garmin Pay mobile payments system. The smartwatch, launched at IFA 2017, has a circular color touchscreen and comes with GPS baked-in for tracking exercise sessions without needing you to carry your smartphone. With this latest model, you can also buy some cake mid-run without needing your wallet.
Garmin Pay – as we discovered yesterday, when the Vivoactive 3 was spotted passing through the FCC – is the company's competition for Apple Pay and Samsung Pay. Users will be able to store up to ten of their debit or credit cards in their virtual wallet, and choose which they want to use by scrolling through on the touchscreen.
You access Garmin Pay by holding down the smartwatch's side button until the app launcher pops up, and then choosing the credit card icon. After punching in your PIN code, you can swipe through any cards registered. As long as the store has an NFC-enabled payments terminal, you can then hold your wrist near that and, with a buzz and an on-screen confirmation, the payment is made.
While onboard GPS may be included with the intention of allowing you to go without your phone, if it's nearby and paired over Bluetooth you can get notifications like incoming calls and messages on the Vivoactive 3 too. It has onboard apps for tracking running, biking, golf, and other activities, and can count steps, distance, and heart-rate. It'll also automatically go into sleep mode when you go to bed.
Battery life with GPS active is up to 13 hours. Turn that off, meanwhile, and you'll get up to seven days in smartwatch mode. The Vivoactive 3 will be priced between $299.99 and $329.99, depending on finish.
It'll be joined by two further models, also new at IFA today. The Vivomove HR looks more like a traditional analog watch, and will come in Premium and Sport designs. It has an OLED touchscreen integrated into the analog face, and does 24/7 heart-rate monitoring, notifications, stress level tracking, and activity tracking. The Sport model will be $199.99 while the Premium – which has a metal housing and leather band – will be $299.99.
Finally, the Vivosport is an update to Garmin's existing Vivosmart 3. It gets a new, color display, integrated GPS, and 24/7 heart-rate monitoring. It can also pipe notifications through from your phone, track stress, and do all of the activity tracking from the Vivomove HR. It's priced at $199.99.