Garmin smartphone apps getting public transportation features soon
Garmin announced at IFA today that it's gearing up to roll out a set of updates for its smartphone apps on both iOS and Android. These updates will be adding a number of helpful tools for Garmin users, including in-depth details on public transportation routes and support for Google Street View. Get ready to hand over some extra cash if you want these features though, because some of them will only be offered as in-app purchases
It would seem that Garmin's "Urban Guidance" system is the main star of these updates. After these updates hit, the app will begin considering various public transportation routes – including water taxis – when trying to plot the most efficient pedestrian route. If public transportation is suggested as part of your route, the app can guide you to where you need to be on foot, and you can even look up schedules and stops to know precisely where you need to hop on and off. To make things easier, the update will also allow for color-coded public transportation routes, matching the transportation lines in your city – something that will undoubtedly be appreciated by tourists.
Urban Guidance will be coming to StreetPilot Onboard for iPhone and NAVIGON for iPhone and Android. You won't be getting it for free, however, as it will cost $4.99 as an in-app purchase. Those who act quick after the update hits can get the feature on the cheap though, with Garmin bringing the price down to $2.99 for its first two weeks of availability.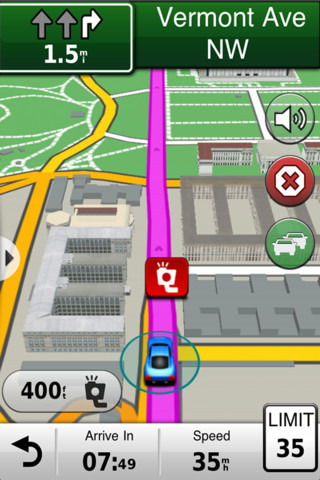 Next up we have Garmin's "Last Mile Navigation" feature, which gives users a "streamlined navigation experience when continuing by foot after parking the car." When you're getting close to your destination, the feature will suggest nearby parking lots and structures for you to park in. After you've picked one and parked your car, the app will switch to pedestrian navigation mode, saving the location of your car so you can easily find it once you're ready to leave again. Android users should already be familiar with this feature, as it's currently available in their version of NAVIGON. It'll be coming to NAVIGON for iPhone with this update, but sadly it will be giving StreetPilot Onboard a pass for the time being.
Finally, we come to the integration of Google Street View and Panorama View 3D, which are both being included to give users a better understanding of their surroundings. Features like these will obviously come in handy when visiting an unfamiliar face, as Google Street View can show you what the area surrounding your destination looks like. Both of these features are already available in NAVIGON for Android and iPhone, and will be added to StreetPilot Onboard once these updates land. Keep in mind that you'll have to pay extra for Panorama View 3D, which Garmin is charging $9.99 for.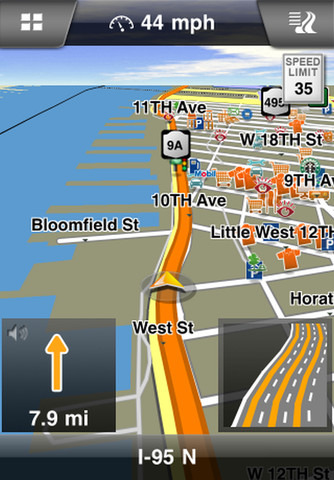 We don't have a solid release date for these updates yet. In its announcement, Garmin only said that they would be coming in fall 2012, so they should be arriving relatively soon. Keep it tuned here to SlashGear and we'll have more information for you once Garmin releases it.