Garmin Nuvi 510 weatherproof touchscreen GPS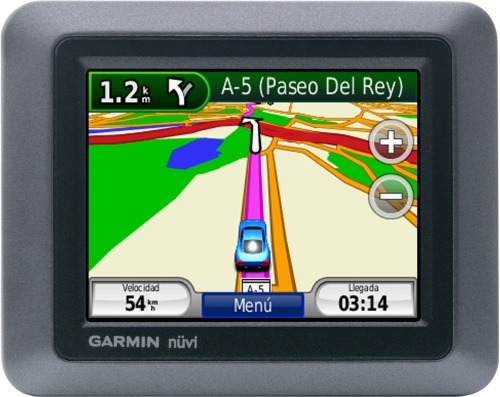 At first glance we'd expect Garmin's new Nuvi 510 to be a budget model.  After all, the 3.5-inch screen is smaller (and regular aspect rather than widescreen) than most other new GPS devices we see, and there's no fancy graphics or clever 3D building renders.  However Garmin intend the 510 to be used not only in a car but on a motorbike and at sea, and so the feature set is slanted toward that.
That means you get chunky icons suitable for stabbing at even with gloves on, an IPX7-standard waterproof casing, and battery life rated up to 8hrs since you might not be using the Nuvi 510 near a standard 12V car power socket.  A range of mounts offer a sturdy place for the 510 to perch no matter the vehicle, as well as providing extras like Bluetooth to connect with motorcycle helmets that have integrated microphones and speakers.
Garmin include topographic, nautical and detailed street mapping, with further maps optional. It accepts microSD cards, has capacity for 1,000 stored locations, and is FM traffic compatible. The Garmin Nuvi 510 is available now, priced at €300 ($376).
[via NaviGadget]