Garmin nüvi 3500 series PNDs pack photo details and Smartphone Link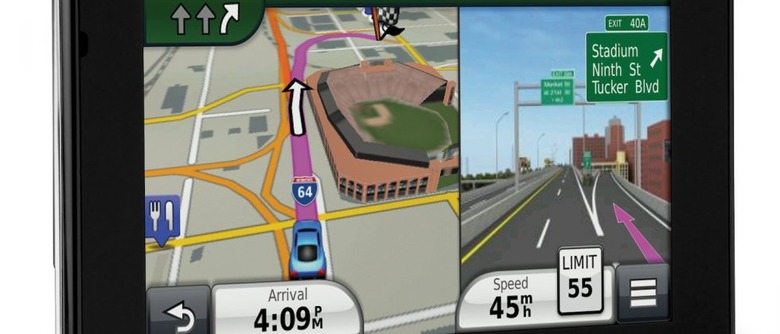 Garmin's latest personal navigation range has been launched at CES today, the nüvi 3500 series, a flagship line-up of standalone satnav units with select models compatible with the company's new Smartphone Link hook-up between GPS device and Android phone. The nuvi 3450, 3450LM, 3490LMT, 3550LM and 3590LMT each have full color touchscreens (either 4.3- or 5-inches), lane assist and Garmin Guidance 3.0, the company's latest navigation engine.
Guidance 3.0 uses nearly 60,000 junction views in the U.S. and Canada to show photographic details of signs and lanes, while the the nuvi 3590LMT pairs that with subscription-free Digital 3D Traffic information pumping out updates as to condition of the road ahead as often as every 30s. 3D landmarks, Bird's Eye views at junctions and boosted search speed are also included.
There's also Bluetooth on the nuvi 3490LMT and above, for hands-free phone use, and those higher-end models also have voice-activated navigation.
As for Smartphone Link, that pairs on-PND information services, like weather and speed cameras, with your smartphone, using a Bluetooth connection. The app also helps you find your way from your parking spot to your final destination, and then find your car again.
The Garmin nuvi 3500 series will go on sale in February, priced from $329.99. The Smartphone Link app is a free download, with live weather information and myGarmin messaging also free to use; however Live Traffic ($19.99 per year), photoLive traffic cameras ($9.99 per year), Fuel Prices ($9.99 per year) and Advanced Weather ($4.99 per year) are all premium services. It works with all Bluetooth enabled 2012 Garmin PNDs, the nüvi 2475LT, 2495LMT, 2595LMT, 3490LMT and the 3590LMT.
https://www.youtube.com/watch?v=62nxc0vD1mI