Garmin GTU 10 GPS tracker squeals your location via AT&T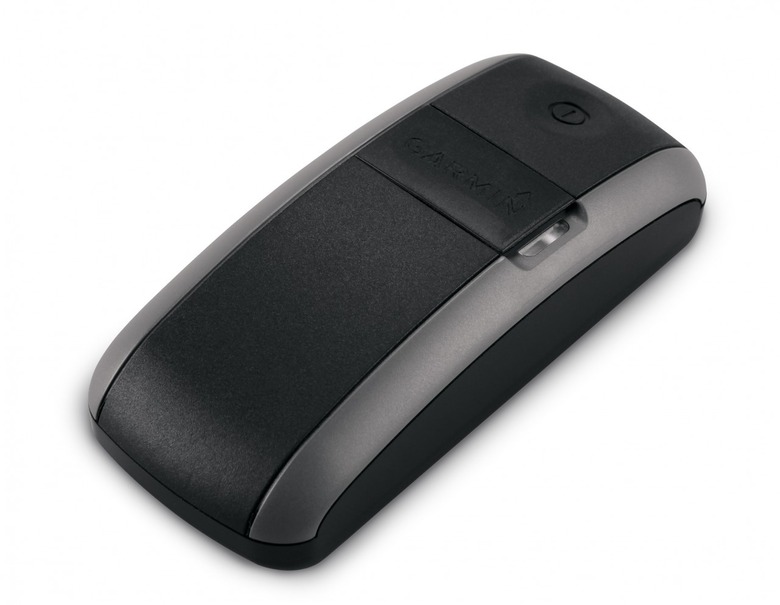 "Every step you take, ever move you make, I'll be watching you" sang a creepy Sting, instantly earning a place at the wedding receptions of those who don't really think about what his stalker lyrics are actually suggesting. If only Sting had been able to pick up Garmin's new GTU 10 GPS locator, a waterproof tracking box fitted with a GPS chip and an AT&T modem, that updates its location on Garmin's Tracking site.
As well as casual check-ins, the GTU 10 supports up to 10 geofences (virtual boundaries) which trigger an email or text message notification when the tracker moves outside. The battery is good for up to four weeks of use, and sends out low-power alerts when it's running short.
The Garmin GTU 10 is priced at $199.99 with a year's worth of access, allowing for 10 points of daily track history. Standard Tracking renewals are $49.99 for a year's subscription, or you can upgrade to 7 days of track history access for $4.99 per month.
Press Release:
Garmin® GTU 10: New GPS locator helps you track what's important

OLATHE, Kan./January 4, 2011/Business Wire — Garmin International, Inc., a unit of Garmin Ltd. (NASDAQ: GRMN), the global leader in satellite navigation, announced today that it is entering a new market – personal and property tracking – with the introduction of its innovative GTU 10 GPS locator and web-based Garmin Tracker™ service for computers, smartphones and compatible Garmin nüLink devices. GTU 10 will be showcased in the Garmin booth (South Hall #35831) at this year's Consumer Electronics Show.

"For more than 20 years, Garmin has been the go-to name for location-based technology and our new GTU 10 broadens the scope of ways that we can help our customers in their everyday lives," said Dan Bartel, Garmin's vice president of worldwide sales. "Whether you're keeping an eye on your children after school, your pets or your property, you'll have peace of mind knowing that you can easily and affordably track the locations of the things that matter most to you."

How It Works

Small (3"x1.3"x.8"), lightweight (1.7 oz.), waterproof and packaged with a carabiner clip and pouch, GTU 10 is easy to attach to a backpack, dog collar or anything else you want to track. Once you register your GTU 10 at my.Garmin.com, the tracking service is enabled. Tracking data is delivered across AT&T's wireless network. When you're on your computer, Garmin's Tracking website helps you manage your GTU 10 and map its location. For even more convenience when you're on the go, you can download the Garmin Tracker™ application for your mobile device to see the location of GTU 10 and how it relates to your current location. For another level of connectivity, compatible Garmin nüLink devices can automatically route to the GTU 10's location with turn-by-turn directions.

GTU 10 owners can create up to 10 geofences (virtual boundaries) for your device so that when it enters or exits a geofenced area, Garmin can send an email or text message notification to you or authorized friends and family members. It's also easy to view a track history of where your GTU 10 has been. And because there are numerous ways to use GTU 10, it's easy to customize battery settings for optimal performance. The built-in rechargeable Li-ion battery can last up to four weeks between charges, and low battery/powered off notifications through the tracking service let you know when it's time to recharge or when the device has been turned off.

Make It Yours

"While GTU 10 was being developed, countless uses evolved as different people saw different possibilities," said Dan Bartel, Garmin's vice president of worldwide sales. "Our role is to provide the technology and make it intuitive and reliable, how you use it is up to you.1"

Among some of the many potential uses for GTU 10:

• Parents: Know that your child arrived at the babysitter's house after school, or track your teenager when he/she borrows your car.

• Cyclists and runners: Let loved ones track your whereabouts, or let friends track your progress on race day.

• Property owners: Attach GTU 10 to your prized possessions, such as boats, tools, farm machinery, construction equipment, etc. – or hardwire it into your car – and keep an eye on your valuable goods from anywhere.

And the list goes on, depending on what you want to track, and how you choose to track it.

Tracking options

GTU 10's tracking capabilities are a result of combining high-sensitivity GPS with a connection to AT&T's nationwide wireless network. GTU 10 has a suggested retail price of $199.99, which includes one year of Standard Tracking. Providing access to 10 points of daily track history, Standard Tracking can be renewed at an annual rate of $49.99 after the first year of complimentary service. For those who want a more detailed history, the Deluxe Tracking service plan ($4.99 per month) can access 7 days of track history. Each service plan includes the option to automatically renew upon expiration, and there are no early termination fees, no activation fees and no contracts.

Since its inception in 1989, Garmin has delivered 72 million GPS enabled devices – far more than any other navigation provider. Garmin's market breadth in the GPS industry is second to none, having developed innovative products and established a leadership position in each of the markets it serves, including automotive, aviation, marine, fitness, outdoor recreation, tracking, and wireless applications. For more about GTU 10 and Garmin's other products and services, go to www.garmin.com, www.garmin.blogs.com and http://twitter.com/garmin.

Use of the GTU 10 is subject to applicable laws and regulations.