Garmin Forerunner 620 And 220 Feature One-Inch Color Displays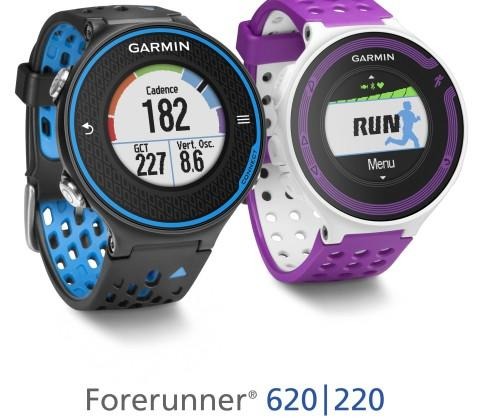 GPS manufacturer Garman has unveiled a pair of new GPS running watches called the Forerunner 620 and the Forerunner 220. Garman says that these two watches are the lightest, thinnest, and most advanced that it offers. The 620 is the most advanced of the pair.
The 620 features a recovery advisor, race predictor, VO2 Max estimate and more. The 620 is also compatible with Garmin's new HRM-Run monitor to provide feedback on running form. In addition to working for runners who like to get their exercise outside, it will also work for indoor training on treadmills.
Both watches have built-in accelerometers that are able to track distance and pace. That accelerometer means that the runner doesn't need a separate sensor. The Forerunner 620 is able to estimate the runners VO2 max, which is used as an indicator of athletic capability. The 620 can also be used as a heart rate monitor.
The heart rate monitor can incorporate data such as running speed, beats per minute, and heart rate variability to come up with the maximum volume oxygen runner can consume per minute per kilogram of body weight to maximize performance. The 620 can also measure vertical oscillation, which is the bounce in runners running motion.
It can also estimate ground contact time in milliseconds. Both of the watches are water resistant to 50 m and the main difference is that the 620 has a touchscreen and the 220 is operated with pushbuttons. Both use rechargeable batteries good for up to six weeks of use in watch mode and up to 10 hours in training mode. The 620 starts at $399.99 while the 220 starts at $249.99. Garmin also makes watches for cyclists, we mentioned the Vector for bicyclists last month.
SOURCE: Garmin