Garmin-ASUS Nuvifone G60 And M20 Hands-On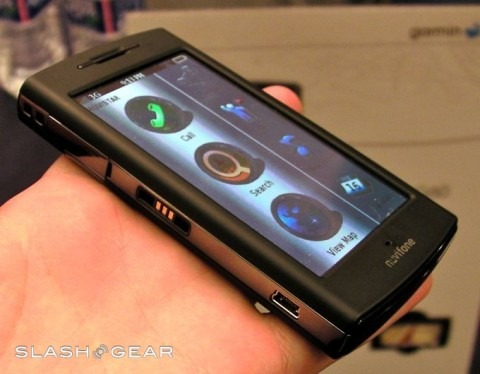 We stopped by to check out the latest fruits of the Garmin-ASUS partnership today at Mobile World Congress, in the shape of the new nuvifone M20 and the latest iteration of the nuvifone G60.  The latter, although we've seen it several times before, still manages to impress: that's primarily thanks to the user-interface, which is GPS-focused enough to truly feel like a real PND/smartphone hybrid.
More hands-on shots of the G60 and M20 – plus hands-on feedback – after the cut
The three main icons on the homescreen have a scrolling menu bar down the right-hand side, with Garmin's new Ciao! app being the most obvious addition.  Garmin confirmed that Ciao! uses location-based services such as Buddy Beacon, although you need a nuvifone in order to use Ciao!  The G60's accelerometer works throughout the OS – something we wish other handset manufacturers would follow suit on – flipping orientation between portrait and landscape, and it's in the latter when the G60 feels most like a PND.  There's no hardware home key, which seems like the one true interface mistake; instead you long-hold the on-screen 'back' button to return to the main menu.
As for the Garmin-ASUS nuvifone M20, it's a somewhat less impressive handset than the G60.  That's perhaps because it's more obviously a Windows Mobile 6.1 device; smaller than the G60, and available in a range of pleasing metallic colors, there's a new custom homescreen but it's less distinctive (and less standalone-PND) than the original nuvifone.  Nonetheless, there's the same range of location-based services, including Ciao! and the integration of GPS with contacts.  Appointments, in fact, are particularly slickly coupled with location: not only do schedule items have a link from their location, but they also indicate weather forecasts for that area in the day agenda list.  It feels a solid little device, though we're not sure it's as convincing a product as the G60.
We've got video of the two Garmin-ASUS handsets processing, with demos of some of the features and more details on availability.  We'll add them in as soon as they're edited and ready; until then, enjoy the live pictures!