Garmin-Asus nuvifone A50 hands-on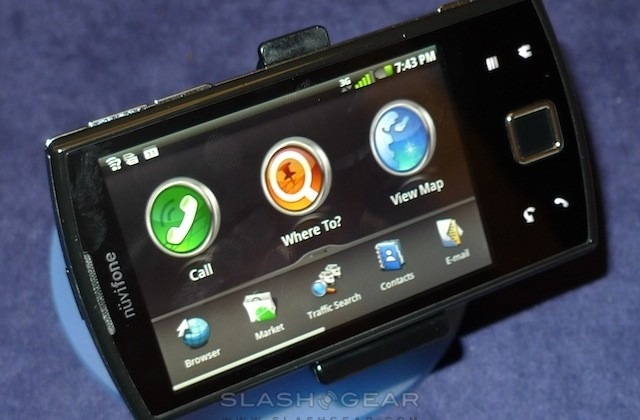 The first nuvifone took its time reaching the market and met with disappointing reviews when it finally made it, so you could argue the bar is set low for the Garmin-Asus nuvifone A50.  The first in the model range to run Android, we grabbed some hands-on time with the A50 at MWC 2010 this week; turns out, the partnership have learnt plenty from their first efforts, and while the smartphone won't knock HTC off their perch it joins the ringing death-knell of standalone PNDs.  More first-impressions after the cut.
Hardware-wise, the A50 is made from unremarkable black plastic, and Garmin-Asus will bundle it with a windshield mount that can hold it in portrait or landscape orientation.  There's also a 3-megapixel camera, 3G, WiFi and Bluetooth, along with – obviously – GPS; the worst omission is a 3.5mm headphone jack.  The A50 runs Android 1.6, on top of which Garmin-Asus have done some significant re-skinning.
Like the first-gen nuvifone, navigation takes top billing along with calls.  To the side there's a row of user-customizable shortcuts, which can be panned left to right.  It's not as flexible as on other Android devices we've seen, but then again the A50 really is obsessed with navigation; Garmin-Asus have thrown the mapping data straight into the handset's ROM, rather than on a separate memory card, meaning there's no chance that you could either find yourself without the maps or relying on a wireless connection to download them.
Hitting "Where To?" on the homescreen takes you to a straightforward address finding place, though you can also get to navigation by tapping addresses in the Contacts app.  Directions are turn-by-turn and include voice guidance, and the initial route is calculated reasonably quickly.  We'll have to wait until we get a review unit to see how it compares to rival services, such as Google Maps Navigation, though.
In the end, while the A50 isn't as impressive an all-round device as, say, the HTC Legend announced today, it's a great example of Android being customized to address a pretty specific task.  More details in the video below.
[vms be7e3ba84431ad9d055a]