Garmin Astro DC 50 dog collar arrives with improved GPS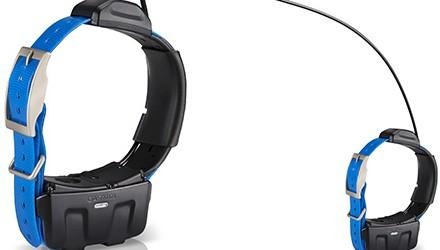 If you're going hiking or hunting and want your trusty dog by your side, but don't want him to get lost, you can get one of Garmin's GPS-equipped dog collars that makes sure your dog doesn't stray too far from your side. The company has outed a newer dog collar, called the DC 50, that comes with improved GPS capabilities and more ruggedness.
The DC 50 is designed to work with Garmin's Astro 320 tracking system, and it also comes with new features such as bark detection and various training functions, as well as longer battery life and a longer, more robust antenna. The new collar is the successor to Garmin's DC 40 and DC 30 collars, which we covered a few years ago.
The DC 50's design was also changed to accomplish a better signal for the GPS unit. The main housing sits below the dog's neck while a low-profile GPS antenna now sits atop the dog's neck on the collar. This provides a better signal for GPS satellites, and in addition to GPS, the DC 50 also supports GLONASS, which is approximately 20% faster than GPS.
You can also use both GPS and GLONASS together, which will allow the collar to lock on to 24 more satellites than when just using GPS alone. As for the antenna, it's made out of braided steel, so it's meant to be beaten around some and still withstand the brutality. The collar comes with a 22.5-inch antenna, as well as an 18.5-inch option. The 22.5-inch antenna can reach up to nine miles on flat, clear land.
The DC 50 collar costs $229, and the collar bundled with the Astro 320 system will set you back $599. The DC 50 is expected to be available sometime later this month, so if you've been in the market for a GPS dog collar for your hunting trips, you may want to hold off just for a bit longer.
SOURCE: Garmin