Garmin Astro DC 40 GPS Dog Tracker Helps You Corral Your Canine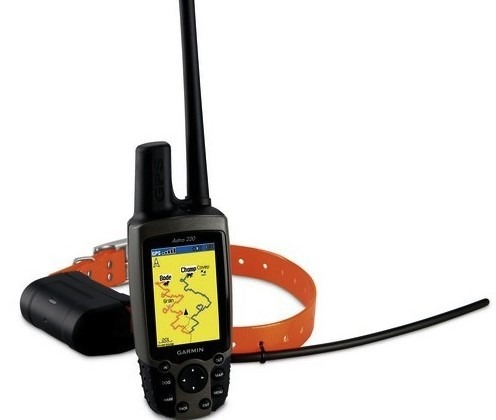 Dogs, eh?  Because they will insist on having legs, you can't always be sure they'll still be where you left them when you come back home.  Bravely filling that lost-dog niche is Garmin, who have just taken the wraps off their second-gen Astro GPS Dog Tracking Collar.  The Garmin DC 40 has an integrated GPS puck and goes round your dog's neck, while the waterproof Garmin Astro 220 receiver shows exactly where the animal is on its color display.
One Astro 220 receiver can track up to ten different dogs simultaneously, if you're greedy and have more than just one or two, and you can set the update frequency to five, 10, 30 or 120 seconds; battery life is 17 to 48 hours, depending on that setting.  As for the 220, that should last up to 24hrs on two regular AA batteries.  If you don't want just anybody locating your dog, you can set a four-digit PIN that needs to be entered before the GPS info will come through.
Mapping data is loaded via microSD card, and the 220 can show topographical or road maps depending on what you put in.  There's also a special Covey Counter app which allows you to track what your dog is doing.  No word on pricing at this stage – the existing Astro system with the previous-gen DC 30 collar is priced at $599.99 – but the DC 40 will be available both on its own and as part of a bundle with the Astro 220.
Press Release:
Garmin® Unleashes Next-Generation Astro® GPS Dog Tracking Collar

OLATHE, Kan./June 11, 2010 /Business Wire — Garmin International Inc., a unit of Garmin Ltd. (NASDAQ: GRMN), the global leader in satellite navigation, announced today the DC™ 40 tracking collar, improving upon the very popular Astro GPS Dog Tracking System.

The new DC 40 is mounted on a durable one-inch orange polyurethane coated collar strap, and the small black GPS puck that used to ride on the top of the collar is now integrated into the unit's main housing. As a result, owners can combine the DC 40 with most standard e-collar receivers – eliminating the need to put two separate collars on a dog. The charging connection has been completely redesigned as well, with the charger clamping around a housing that has no recessed areas for mud to accumulate. Even the LED charging light on the collar has been reconfigured to flash while charging, and glow solid when fully charged.

"The refinements that are found in the new DC 40 are the result of feedback from hunters and trainers," said Dan Bartel, Garmin's vice president of worldwide sales. "The new collar is more convenient and more durable than ever. Whether purchasing an Astro for the first time or upgrading from an older model, sporting dog owners will love the refinements that are packed into the new DC 40."

Another new feature of the DC 40 is Collar Lock – an option that lets users create a four-digit PIN number that helps prevent others from seeing their dog's whereabouts. That's a feature that field trial judges will find useful to ensure that an Astro is used only as a recovery tool when a dog in competition becomes lost.

Used in conjunction with the Astro 220 receiver, the system pinpoints exactly where your dog is and what he's doing – running, pointing, or treeing – even in dense cover, up to seven miles away, depending on terrain.

The Astro GPS Dog Tracking System requires very little configuration straight out of the box, and is extremely simple to use. Once the transmitter and receiver acquire a GPS signal, the receiver automatically lets users know the location of their dog. There are no subscriptions or setup fees required to use the device.

Astro can track up to ten dogs per receiver at once, and the collar gives location updates every five, 10, 30 or 120 seconds (user selectable). Battery life is 17-48 hours (based on update rate) on the rechargeable DC 40 collar and 24 hours on the Astro 220 receiver, which is powered by two AA batteries. Both the DC 40 collar and the Astro 220 receiver are waterproof.

The Astro also has a map page to illustrate where a dog is and where it has been – in relation to the hunter – and allows hunters to determine if they have covered nearby ground. Garmin's unique Covey Counter™ lets hunters mark the precise location, time of day, and elevation where they encountered their quarry – and users can easily note the number of birds flushed and how many were taken.

The Astro has a microSD card slot that allows users to insert optional pre-programmed topo maps or road maps, which can be invaluable in an unfamiliar area. Highly-detailed 24K topo maps give hunters an idea of the most productive areas to hunt, while road maps feature the same basic functions as an automotive GPS navigation unit – even in rural areas. The optional road map data can also give turn-by-turn directions to motels, gas stations, restaurants, and even veterinarians.

The new DC 40 collar is included as part of the Astro GPS Dog Tracking system. For those wishing to upgrade from a previous generation of collar, the DC 40 can be purchased separately.

Visit www.garmin.com for more information and pricing.