GarageBand gets Touch Bar support and improved design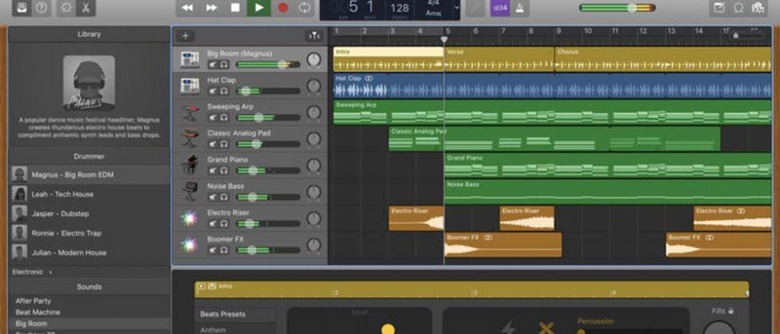 Apple has pushed out an update for GarageBand that adds, among other things, support for the Touch Bar found on the new line of MacBooks. It's easy to see how the Touch Bar could come in handy during editing, particularly for quickly navigating through a project. That's not the only change coming to the software, though — it has also received a new design that Apple calls 'modern.'
GarageBand, of course, is Apple's low-barrier software for creating music, podcasts and more. The software was recently made free for all Apple users, even those clinging to their dated machined, and it can be downloaded from the Mac App Store. Users have been requesting the addition of Touch Bar support for a while, and now it has arrived.
The new support comes in GarageBand version 10.2, which also has a new 'modern design' that is said to offer better ease of use. Version 10.2 also brings three new drummers that, says Apple's software changelog, play Pop, Songwriter and Latin percussion. There's also a new drummer loop that can be used in audio projects; it is customizable via the performance controls.
Finally, the new update also allows users to add new tracks to their projects from the iOS version of the software on iPad and iPhone. You must be using Mac OS X 10.11 or later in order to run the newest version of GarageBand.
SOURCE: iTunes