Galaxy Tab S3 pricing revealed by Best Buy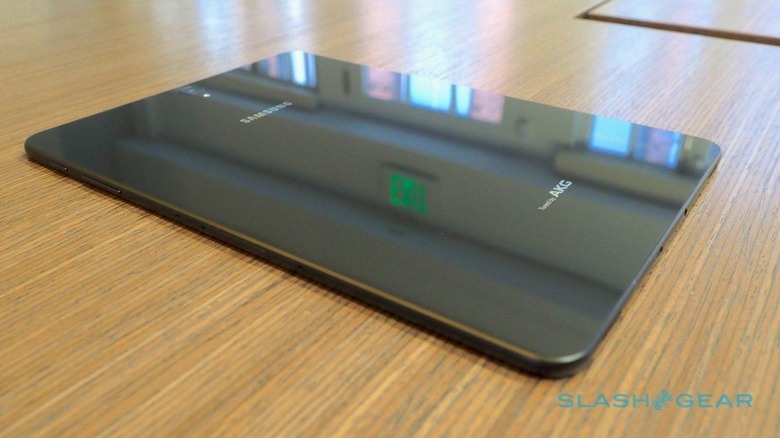 Back at MWC 2017, Samsung finally pulled the veil back on the Galaxy Tab S3. Thanks to a number of rumors before this reveal, we knew the tablet was coming, but it was nice to get confirmation nonetheless. Now it's time for Samsung to start ramping up toward release, and a new Galaxy Tab S3 listing on Best Buy's website is delivering some important details on pricing.Samsung certainly seems to be positioning the Galaxy Tab S3 as an Android alternative to the 9.7-inch iPad Pro. That much is clear from the listed price for the 32GB model: $599.99. This is the exact same price Apple has given the 32GB iPad Pro, so there isn't really any question that Samsung wants to tackle the high-end Android market with this release.
What does that $600 get you? You'll have a 9.7-inch AMOLED display running at a resolution of 2048 x 1536, along with a Qualcomm APQ8096 CPU (Snapdragon 820) and 4GB of RAM. The included S-Pen immediately brings the dead and gone Galaxy Note 7 to mind, so perhaps this will serve as a good replacement for those who felt that the Galaxy Note 7 went well before its time.
READ MORE: Galaxy Tab S3 hands-onIt's worth noting that this listing is for the Wi-Fi only Tab S3 model, and at the moment, there's no real telling what Wi-Fi + Cellular models will cost. For what it's worth, Apple prices its LTE-capable 32GB iPad Pro at $729.99, so if Samsung can come in under that price, it might give the Galaxy Tab S3 an edge.
Best Buy's listing is also missing a release date – in fact, we don't even have the ability to pre-order yet, with the listing merely saying that the tablet is "coming soon." Precise release information hasn't been announced for the US just yet, but with the tablet scheduled to hit the UK by the end of the month, we should see pre-orders open soon. We'll see if there's still a significant market for high-end Android tablets when the Tab S3 arrives, so stay tuned.
SOURCE: Best Buy