Galaxy Tab 3 US-bound launch aims for the high end of low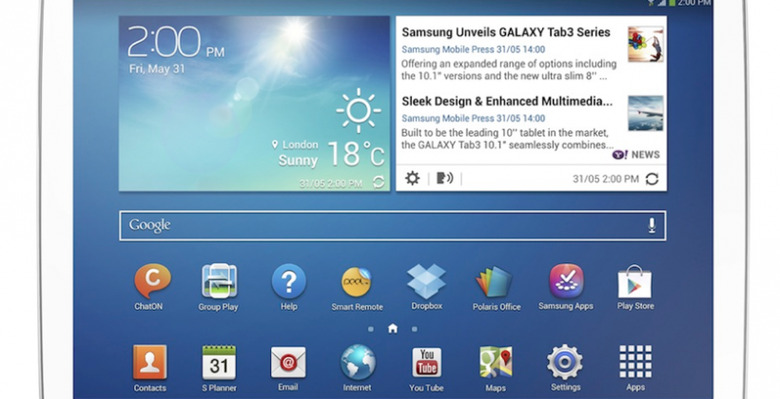 It would appear that Samsung is aiming for the high end of low with their next generation of Samsung Galaxy Tab devices, each of them popping up soon in the USA with a price point that'll cut down – or at least match – their closest opponents. While we've seen each of these devices in short before, it'll be interesting to see how they'll each end up on carrier plans throughout North America. Starting with the Samsung Galaxy Tab 3 10.1 and running down through the Galaxy Tab 3 8.0 and 7.0, Samsung is ready to boost their set with the Galaxy S 4 generation of apps as well.
The lineup of tablets you're seeing here were introduced to the public in the weeks leading up to the Samsung Premiere even that took place earlier this month. None of them made an appearance, on the other hand, with the company concentrating their release efforts on a Windows 8 tablet that looked essentially the same on the outside with a rather beefed-up processor on the inside.
Here with the Galaxy Tab 3 collection you've got a big change-up happening for hardware compared to the last generation as well. While each iteration of the Samsung Galaxy Tab before this 3rd one worked with capacitive buttons, this generation ushers in the Galaxy Note/Galaxy S smartphone and tablet line's physical home button. In other words: you're not going to want to be leaving your tablet face-down any time soon.
With the smallest of the three, the Galaxy Tab 3 7.0, Samsung is aiming for the lowest price on a tablet they've yet made good on: $199. That's two hundred bucks for a 7-inch tablet with a Marvell PXA 986 1.2GHz dual-core processor under the hood alongside 1GB of RAM and 8GB internal storage – with a microSD card slot for memory expansion. That's not quite up to speed with the ASUS-made Google Nexus 7, even with its 1024 x 600 pixel TFT LCD display, but the low-end of tablet lovers in the USA might not mind that they're not rolling with an NVIDIA Tegra 3 when they see that extra $50 fall off their bill.
The Galaxy Tab 8.0 brings on essentially the same build as the Samsung Galaxy Note 8.0, this time coming at you with Exynos 4212 1.5GHz dual-core processor instead of quad-core and a $299 USD price point. The 10.1-inch Galaxy Tab 3 then rings in at $399 and users in the first Intel architecture ever to appear in a Galaxy Tab tablet: a Intel Z2560 1.6GHz dual-core processor it is.