Galaxy Tab 3 7.0, 8.0, and 10.1 appear on retailer shelves early

We may receive a commission on purchases made from links.
This week the folks at Adorama have revealed their first listings for the next generation of Samsung tablet, both the Galaxy Tab 3 7.0, 8.0, and 10.1. These two devices take on the form of the Samsung Galaxy Note 8.0 (pictured below) and GALAXY S 4, but take away the Note's pen and modify their shape just a bit. This is the first time the devices have appeared available from a retailer in the United States, while the tablets are just hitting shelves internationally.
The Samsung Galaxy Tab 7.0 works with a 7-inch display while the 8.0 works with 8 inches, 10.1 with 10.1, and so forth. The Galaxy Tab 3 10.1 will be available in White as well as in Brown, both of these in a 16GB internal storage iteration for $349.99 USD. The Samsung Galaxy Tab 3 8.0 will be available in a "Gold-Brown" (which we assume will be the same tone as the "Brown" listing" as well as in white, both of these for $329.99 USD.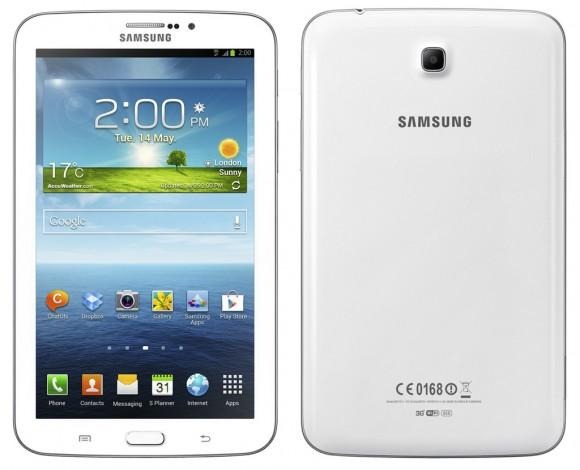 The Galaxy Tab 3 7.0 is listed at $199.99 and will also be coming in Gold-Brown. At the moment there is no White iteration of the device being shown at Adorama, but we must also assume that one is on the way. This release comes with 8GB of internal storage.
What's interesting about this release of the 7-inch tablet is the knocking off of $25 from the price of the previous tablet of that size from Samsung – there's a Galaxy Tab 2 7.0 up on Adorama right this minute for $224.99 USD. Because that machine was released so recently, it also comes with the same version of Android inside: 4.1 Jelly Bean.
The Galaxy Tab 3 7.0 comes with a slimmer body than the 2, working with 111.1 x 188 x 9.9mm and accommodating essentially the same display as its predecessor: 1024 x 600 LCD TFT. This machine works with a 1.2GHz dual-core processor of unknown origin – the Galaxy Tab 2 worked with a 1GHz dual-core processor from Texas Instruments. The same battery size exists within, and a collection of GALAXY S 4-like abilities will be appearing here as well.
So how did the price go down by $50? We're in the process of asking Samsung right this minute – stay tuned!
VIA: SamMobile
SOURCE: Adorama