Galaxy S7 enlists Whitepages for Caller, Spam ID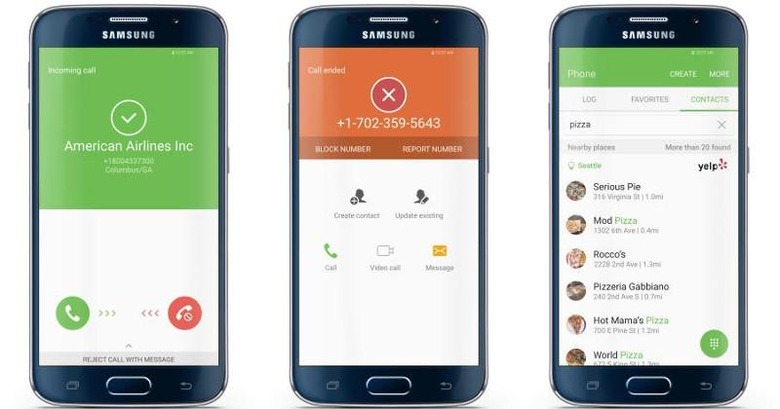 While most smartphones these days are probably used for anything but voice calls, there are still a good number of them that do make, and more importantly, receive such interactions. Sadly, A lot of those calls are also of the shady type, from telemarketers annoying you with their latest promos to scam artists trying to detach you from your hard earned cash. Good thing then that Samsung's latest Galaxy S7 flagship will come with a smarter phone app, courtesy of Whitepages, that can identify callers, both the good and the bad, and even help you find the nearest pizza joint to call.
According to Whitepages, there was a 35% growth in spam and scam calls from 2014 to 2015. That's more than a quarter of the calls people receive. And given how rare voice calls are these days, that number would be quite a lot. That is why there companies like Whitepages and TrueCaller that attempt to screen calls even before they reach your ears. Or your phones for that matter.
Whitepages boasts that it has a database of over 600 million active numbers, both mobile and landline, and that's in the US alone. Globally, it has over 1.5 million unique numbers. What that means is that Whitepages will be able to tell if the number that's calling you is a legit business or a scam waiting to happen. And in case it misses some numbers, because it's statistically impossible for it know everything, you can always report those numbers yourself.
But Whitepages' integration with the Galaxy S7 works with more than just incoming calls. Need to find the nearest business for your needs? Try searching from within the phone app and Whitepages will surface the numbers of nearby establishments. Features like these really put the "smart" into the actual "phone" itself.
Samsung and Whitepages have teamed up to bring these features to the new Galaxy S7. However, at launch, it will be limited to 16 countries, namely Australia, Brazil, Canada, France, Germany, Hong Kong, Israel, Italy, Mexico, Philippines, Singapore, Spain, Sweden, Turkey, the United Kingdom, and the United States. Whitepages promises, however, that more will come though doesn't exactly say when.
Be sure to check out our hands on of the new Samsung Galaxy S7 and the Galaxy S7 edge to see what's hot, and even what's not, in Samsung's latest smartphone champions.
SOURCE: Whitepages