Galaxy S7 edge vs. Galaxy Note 7: Which one should you buy?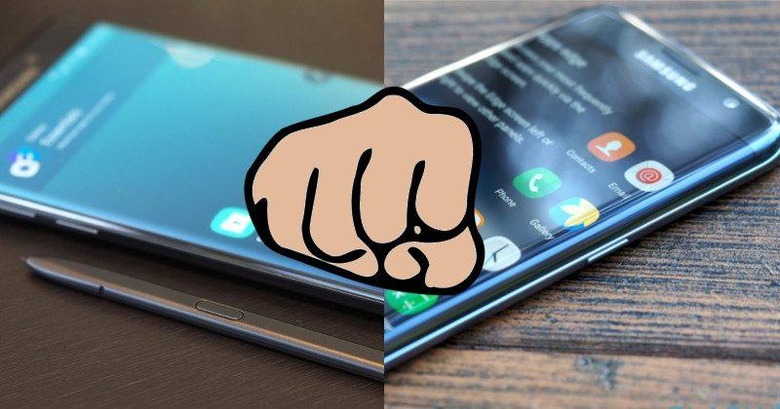 As far as this year's flagships are concerned, Samsung has already laid out all its cards. And like it or not, its cards look eerily alike. But the most striking similarities can be found in the newly announced Galaxy Note 7 and the slightly older Galaxy S7 edge. Given their near identical status, consumers will undoubtedly ask, "which one is which?" If you're in the market for a 2016 Samsung champion and feel a bit stumped choosing between its two curved models, this little guide can hopefully help narrow down the choice to a few factors.
The Specs
For the first time ever, a Galaxy Note wanders ever so closely to its older Galaxy S siblings. Not only is it a bit disappointing for fans of the Galaxy Note's more adventurous past, it also makes choosing a bit more difficult. On the flip side, it does mean that, should you choose one or the other, you won't be jealous of the choice you didn't make. At least not too much.
This is especially true with the Galaxy S7 edge because of the proximity in size and, of course, the dual curved edge screen. One might even see the Galaxy Note 7 as the larger Galaxy S7 edge with a stylus. Of course, that's an oversimplification, but it does get the message across.
It'll be far easier to list where the two differ, but for the sake of full disclosure, here's the full monty: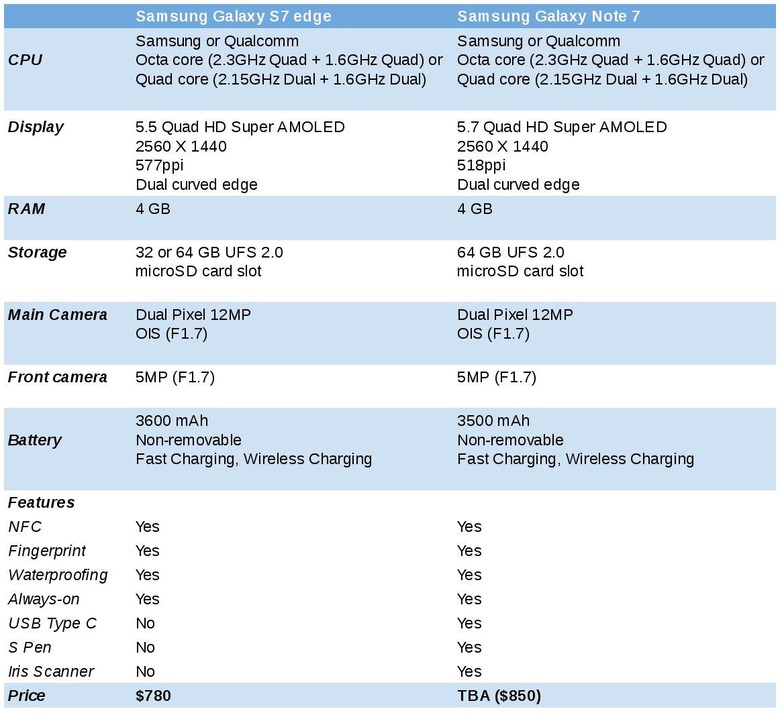 The Difference
Now let's zero in on what makes the Galaxy Note 7 different, which could help you make the decision to get it or aim for a plain Galaxy S7 edge instead.
S Pen
The stylus is, of course, the biggest difference between the two. Take away everything else, the S Pen is what makes a Galaxy Note a Galaxy Note. And it's no small matter either. The S Pen will be a huge benefit for those who love to scribble or draw on their smartphones. And the version of TouchWiz on the Galaxy Note 7 was designed around that, something the Galaxy S7 edge will never have (except through a third party ROM). From things like Air Command to the new Translate and Magnify, these are features aimed at exploiting the S Pen to make "prosumers" more productive.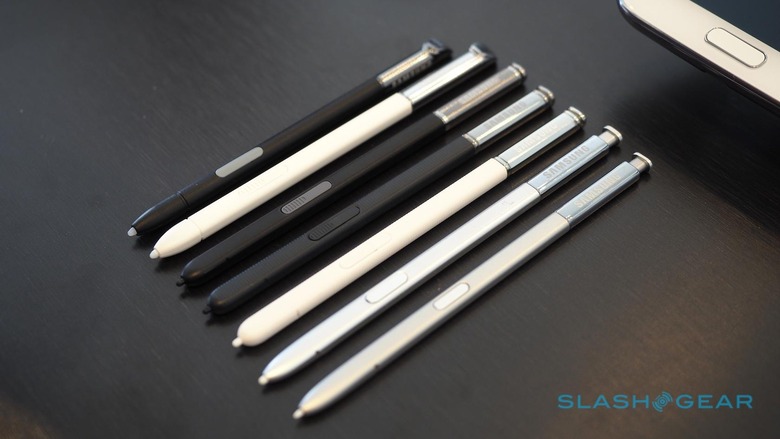 Even the new unified S Note itself is already a boon to productivity. Sadly, it is something Samsung will probably never share with non Galaxy Note models, no matter how useful it is.
Iris Scanner
Even without the S Pen, the Galaxy Note 7 differs in other key feature. Admittedly, at this point, this feature isn't as compelling as any other key feature. Iris scanning technology is still at its infancy and its usefulness isn't that widespread yet. Then again, it took a while for fingerprint scanners to really take off. Depending on how accessible the component will be to manufacturers, it might take even longer.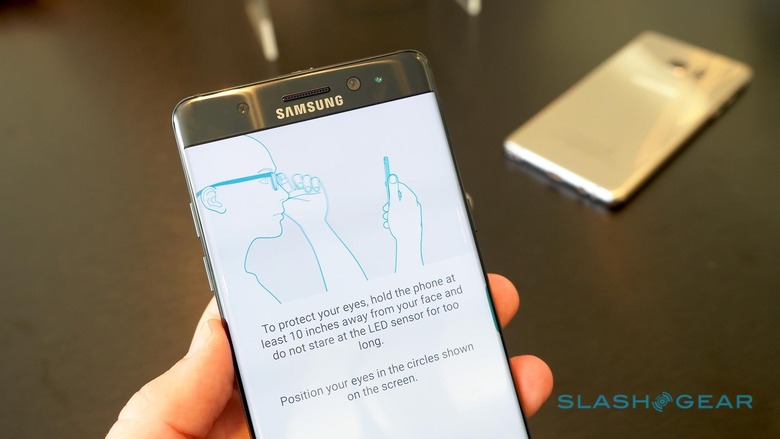 But the iris scanner on the Galaxy Note 7 isn't simply a gimmicky, but fast, way to unlock your smartphone. Samsung has paired the biometric security function with its new "Secure Folders" feature, which can only be unlocked using that sensor. Users can practically keep two copies of the same app, launching one or the other, depending on authentication.
While admittedly intriguing, again, it's still too new to be proven practical.
USB Type C
Now this might actually be a deciding factor for some. Fortunately not as much as the Moto Z or Apple's expected iPhone 7. The Galaxy Note 7 is the first Samsung smartphone to sport a USB-C port, doing away with the more widespread microUSB. At least it didn't throw away the 3.5 mm headphone jack in the process. This just means that you will need an adapter, which Samsung luckily ships in the box. That, however, is another small accessory you'll have to make sure you don't lose.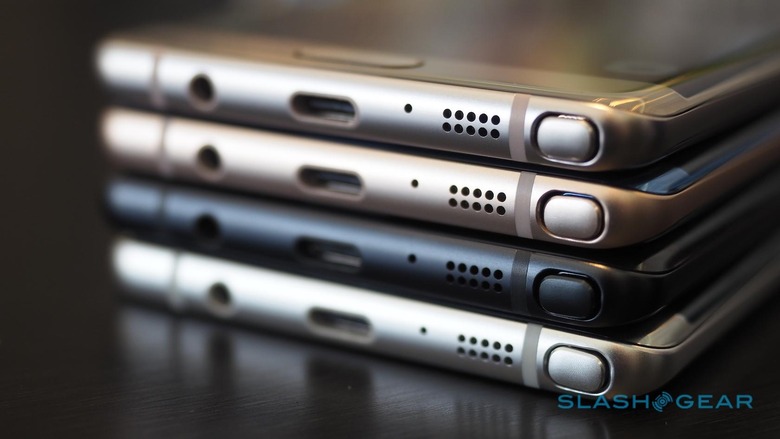 If you're interested in virtual reality, the problem is actually a bit bigger. If you happen to already have the older Gear VR headset around, you'll have to set it aside. Yes, you'll need to buy the new USB-C Gear VR. The good news is that it has an adapter so it will work with all other Samsung Galaxy smartphones.
Price
We still don't have solid info on how much the Galaxy Note 7 will cost, but most are already putting an $850 tag on it. That's quite a big jump from the Galaxy S7 edge's $780. In this case, you are going to feel the brunt of the differences between the two phablets, especially the S Pen and the iris scanner, so you better be darned sure you will use them.
The Wrap-up
In contrast to other smartphone comparisons, the choice between the Galaxy S7 edge and the Galaxy Note 7 is almost clear cut. If you think about it, there is really only one reason you'll choose a Galaxy Note 7:
• You want the S Pen
Unless you also have a vow to collect all Samsung flagships you can get your mitts on. On the other hand, here are the reasons you'll want to choose a Galaxy S7 edge instead:
• You don't need a stylus
• You don't care for an iris scanner
• You have too many accessories (especially power cases) that utilize microUSB
• You already have a Galaxy Note 5
• You are strapped for cash
Sure, you can actually still go with a Galaxy Note 7 even if you will only occasionally use the stylus or even if you don't give a care for the iris scanner. But do remember that you will be paying, a lot, for features you may or may not use. And for some, it will be that $850 price tag that will be the deal breaker.