Galaxy S7 Edge Olympics edition celebrates Rio 2016 games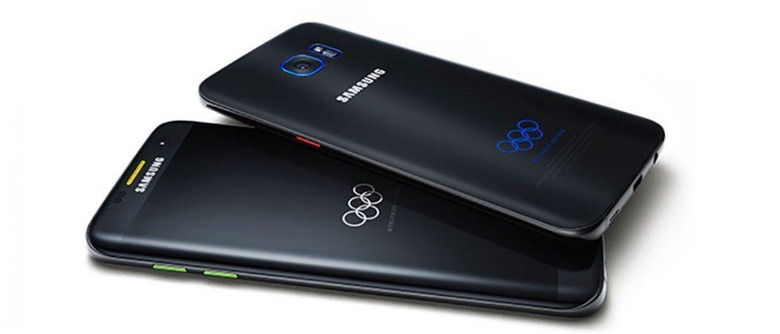 The 2016 summer Olympics games kick off in Rio soon and athletes from around the world will arrive to try to win gold. Samsung is promoting the Rio games with a special edition of its popular Galaxy S7 edge smartphone that has special Rio 2016 themes to its design and color scheme. The main body of the smartphone is the common black we are used to seeing on the device with a slightly different color theme.
However, there are some little pops of color in red, blue, yellow, and green. These colors are the colors that you see in the Olympic ring logos. The buttons on the left side on the phone are done in green, the button on the right side is red, and the speaker grille cover where you place your ear is yellow. On the back of the smartphone is a blue Olympic ring logo.
The ring around the camera lens on the back is blue. The phone also has Olympic theme colors in all the screens and menus the Android OS normally brings with it. Rather than being mostly black and white, the menus for settings and other phone functions are done up in blue, green, yellow, and red colors. Samsung also integrates a selection of pre-loaded Rio 2016 themed wallpapers that users can choose from. Samsung also tried to make the packaging for the smartphone something that buyers would want to keep to commemorate the Olympic Games.
Rather than using a cardboard box that you will throw into the trash, the Olympics edition of the smartphone comes with a zippered bag that you can keep and use for whatever you want. Another cool Olympics touch is a new 3D flag application that lets users choose their country and display their flag on the screen. Samsung is donating 12,500 of these phones and special Gear IconX devices to athletes competing at the Rio games.
As for normal folk, the limited edition can be purchased from today in Brazil, the United States, China, Germany and Korea. In US, BestBuy is selling the Galaxy S7 Edge Olympics edition at $849.99 with only 2,016 units available.
SOURCE: Best Buy