Galaxy S7 edge Olympic Edition to be given away to Olympians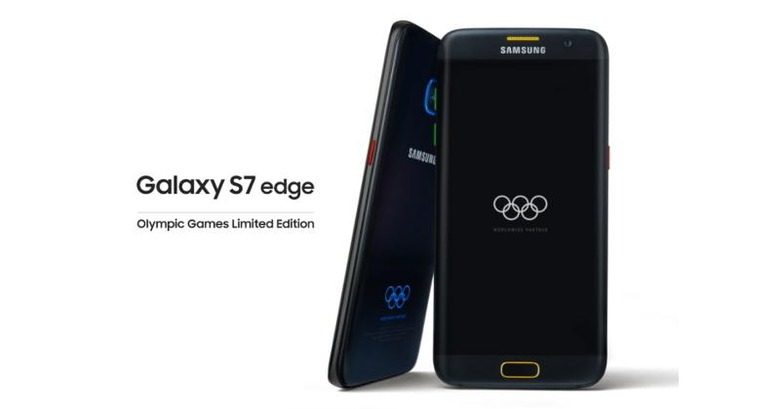 If you haven't noticed it yet, Samsung is one of the major sponsors of the 2016 Olympics to be held at Rio de Janeiro in Brazil next month. And in case you haven't seen the leak, the Korean OEM is planning to put a special edition smartphone just for the occasion. Well, consider that leak confirmed! Samsung has indeed announced the Samsung Galaxy S7 edge Olympic Games Limited Edition, which is a mouthful for simply a variant that has the 2016 Olympics branding all over it.
As you might have expected, or if you've seen the leak before, this Galaxy S7 edge edition is riddled with reminds of the Olympics. And that's not just through themes, icons, and wallpapers. The bottom rear of the smartphone has the iconic five rings on it as a more permanent reminder long after the event has passed. Samsung is promising to distribute 12,500 such devices to all Rio 2016 Olympians, which is not so small number at all. Each Galaxy S7 edge will come with the Olympic Athletes' Hub App so that participants can directly reach the IOC and the Athletes' Commission, as well as be updated with the programs and events for the entire period.
Samsung is even giving away its fancy new Gear IconX cord-free earbuds to the athletes, to keep them entertained during their stay. And monitor their exercises as well, of course.
Samsung does have something for the rest of us. It will actually be selling a more limited number of the Galaxy S7 edge Olympic Edition to the public, only 2,016 in total (get it?). However, it will only be available in the US, China, Germany, and Korea. Interestingly, not in Brazil.
Samsung also has a Rio 2016 App available for both Android and iOS, and even Windows Store, that will detail the events, schedules, and results of the Rio 2016 Olympics. But those who want a more up and personal experience without actually being in the crowded Olympic venues, Samsung will be putting up what it calls "Galaxy Studios" at the Olympic Park and some cities in Brazil to offer a virtual reality perspective of the Olympics.