Galaxy S7 Edge Name Turns Up On Samsung Website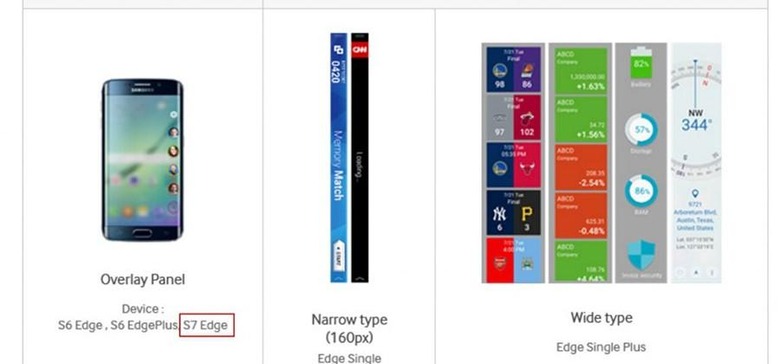 With all the rumors flying about the Galaxy S7 Edge and S7 smartphones, a confirmation of sorts has reportedly happened by Samsung. The image above comes from a Samsung website where the Edge Screen Style is confirmed to be for the S6 Edge, S6 Edge Plus, and S7 Edge.
The image appears to show what the main screen of the phone will look like and highlights some of the thin side display areas that will be viewable on the edges of the smartphone. The image came from a Samsung developer site.
Samsung may as well spill the beans, it can't seem to stop leaks about the device from happening. Hardware tipped to be inside the S7 includes a 5.5-inch screen for the Edge model and a 5.2-inch screen for the standard model.
Available processors include a Snapdragon 820 and an Exynos 8890 with 4GB of RAM. Rear camera is rumored at 12MP with an 8MP front camera. Power will come from a 3500 mAh internal battery. Internal storage is up to 64GB with a memory card slot for expansion. Other features include a fingerprint scanner, force touch panel, Gorilla Glass 5 screen cover, and more.
SOURCE: Galaxyclub.nl