Galaxy S7 Edge glimpsed in-hand with benchmark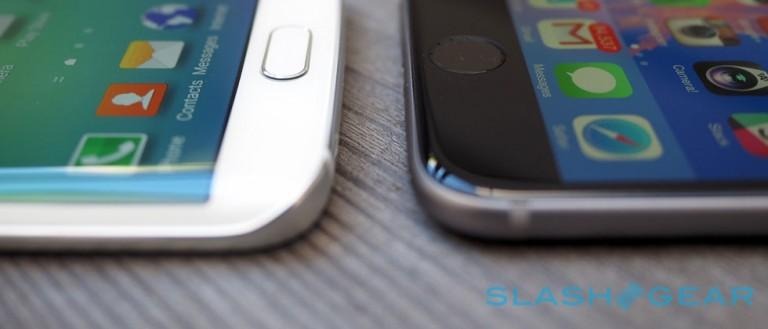 The Samsung Galaxy S7 Edge appears to be photographed by a user in China just weeks before its public release. This is the closest cousin to the Samsung Galaxy S7, and a device that's closest in form to the Samsung Galaxy S6 Edge Plus. It's big. It's pretty gosh-darned massive compared to the Galaxy Notes that went before it. It has no S Pen. It's all about flaunting the edge on a big, big surface.
What's interesting about the Galaxy S7 Edge is its size. Unlike the previous Galaxy S6 Edge, this version combines its predecessors. Instead of delivering an experience that's largely the same as the Galaxy S7, the Edge has a display that's far closer to that of the Galaxy S6 Edge Plus. It's big. It's very big.
Above you'll see the Galaxy S6 Edge compared to the iPhone 6 from our Galaxy S6 Edge Review.
We're expecting specifications to be very, very similar to that of the Samsung Galaxy S6 Edge Plus, save its processor and its RAM. This device will run the same software as the Galaxy S7, save its ability to run content down its edge.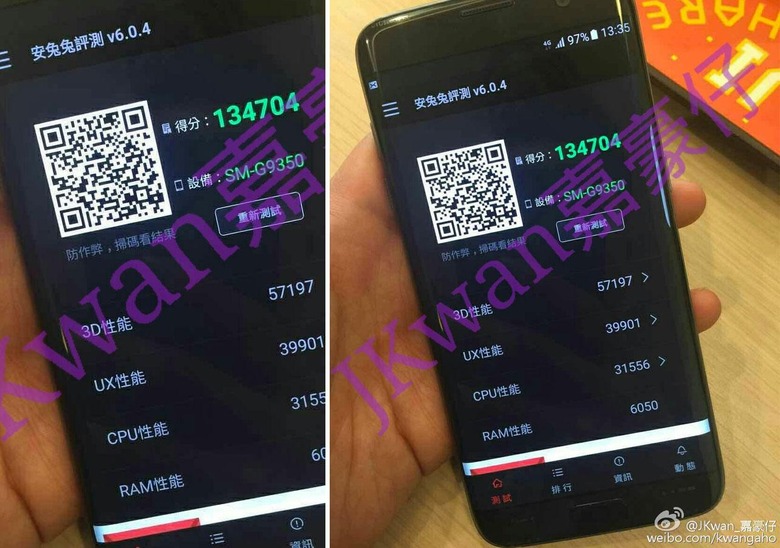 Above you'll find the single photo shared this morning by a micro-blogger by the name of JKwan. That's different from the dance instructor in Napoleon Dynamite. Or we're at least reasonably sure it's different.
Samsung Galaxy S7 Edge details (pre-official)*• Dimensions: 143.4 x 70.8 x 6.9mm (5.65 x 2.79 x 0.27-inch)• Display: 5.7-inch Super-AMOLED with 1440 x 2650 pixel resolution (that's Quad HD, or 2K) (or 5.2-inch for the non-Edge)• Operating System: Android 6.0 Marshmallow• Processor: Qualcomm Snapdragon 820, Samsung Exynos 8890 (octa-core)• RAM: 4GB RAM• Camera: 16MP back-facing camera – 4K video, dual-LED flash, BRITECELL technology• Front-facing camera: 8-megapixel (similar to last year's model)• Battery: 3,500mAh (guesstimate based on historical precedent)• Internal Storage: 16, 32, 64GB, microSD card slot for storage expansion• Special Features: Fingerprint scanner, Force Touch pressure-sensitive panel (under display), Corning Gorilla Glass 5 front and back panels, curved glass edges on rear, similar to Galaxy Note 5*NOTE: Specifications listed above are from a series of insider tips and rumors, and do not come straight from Samsung. Nor do we guarantee what you're reading in the specifications listing above is entirely 100% final. The listing above is just a guide to prepare you for Samsung's full reveal later this month.
VIA: NoWhereElse