Galaxy S7 Active images leak showing rugged polycarbonate cased device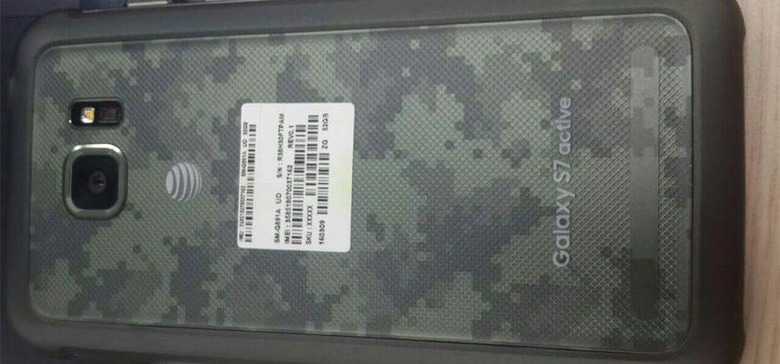 Samsung has for the last few Galaxy S models started with a standard model and later offered up an Active version of that same device. The big feature of previous Galaxy Sx Active devices was that they were water resistant and ruggedized to allow them to survive the bumps and drops that come with being used by an active person. Some wondered that since the new Galaxy S7 devices are water resistant right out of the box if an Active version would be produced.
Leaked images have turned up of a Galaxy S7 Active wearing the AT&T logo on its back. The smartphone ditched the metal case that the Galaxy S7 and S7 Edge use and replaced that with a polycarbonate back plate surrounded in a rubber bumper. It rather looks like a normal Galaxy S7 smartphone inside a case.
The S7 Active is expected to use the same hardware inside as the normal S7, which would mean a Snapdragon 820 and 4GB of RAM. We expect the device to use Android Marshmallow under the hood. Like previous Sx Active models, the big thing with this phone will be its rugged design with IP68 water resistance and the ability to survive drops and bumps along the way.
The normal S7 is water resistant to the point that you can place it in a glass of water for a long time and it will come out on the other side with no damage. Presumably, the S7 Active will be able to survive in water to even greater depths and for longer periods. We have no indication of when the smartphone will debut official or how much it might cost. The digital camo finish on the back of the S7 Active in these photos is attractive and late last month the first indication that the Galaxy S7 Active would be coming turned up in the Samsung app changelog.
SOURCE: Samsungvn