Galaxy S6: new leaked images point to aluminum body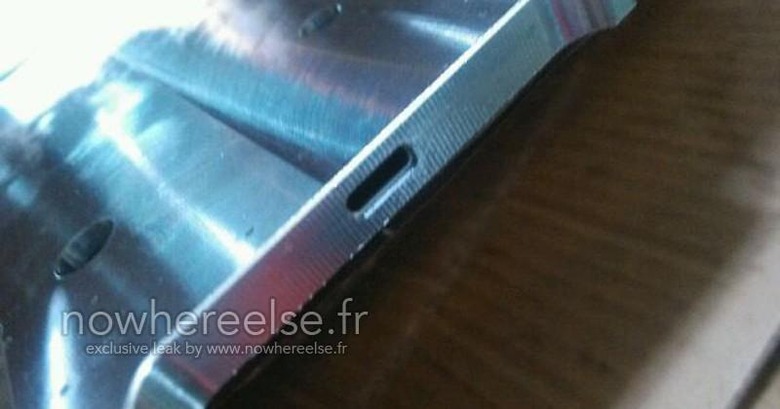 As speculation over the next model of Samsung's flagship Galaxy smartphone, one rumor has been getting the most attention: Whether the device will finally move on from using plastic and upgrade to a metal chassis. While there have been several reports already about the Galaxy S6 sporting an aluminum body, several images have been released that could very well be considered the first leaks. In addition, a shipping manifest hints that there could be at least one Galaxy S6 being used for prototype and testing purposes.
The three aluminum case images come from France's Nowhereelse, and they appear to show the part right off the assembly line. Unfortunately there are no direct markings or any other evidence that can undoubtedly confirm the part is for the Galaxy S6. The metal chassis does appear to take on the shape and styling familiar to Samsung's Galaxy line, however, and seems to lend some credibility to the rumor that next year's smartphone will feature a curved display and aluminum back.
As for the possible prototype, a recent entry for a shipping manifest has appeared on Indian site Zauba, showing a listing for a Samsung device with the model number SM-G920F. The item is labeled as a R&D handset, which adds to the Galaxy S6 speculation, assuming the device is on a timeline for release in early summer. The one unexpected bit is that the smartphone is valued at only $300, hardly the amount one would think a new Galaxy would be priced at.
As sales and shipments of Samsung's smartphones have seen a large drop recently, despite their overall popularity over the last few years, it makes sense for the Korean company to change things up and really offer something new for the Galaxy S6. One the most notable criticisms since the S3 has been that the plastic body contributes to an overall "cheap" feeling in the hand, so an aluminum body makes sense. A curved screen, however, is a pretty big "maybe," seeing how Samsung only introduced its slanted screen on the Note Edge, it seems unlikely to bring that to its flagship so soon.
VIA: BGR
SOURCE: Nowhereelse, Zauba