Galaxy S5 Active leaked, detailed for real ruggedness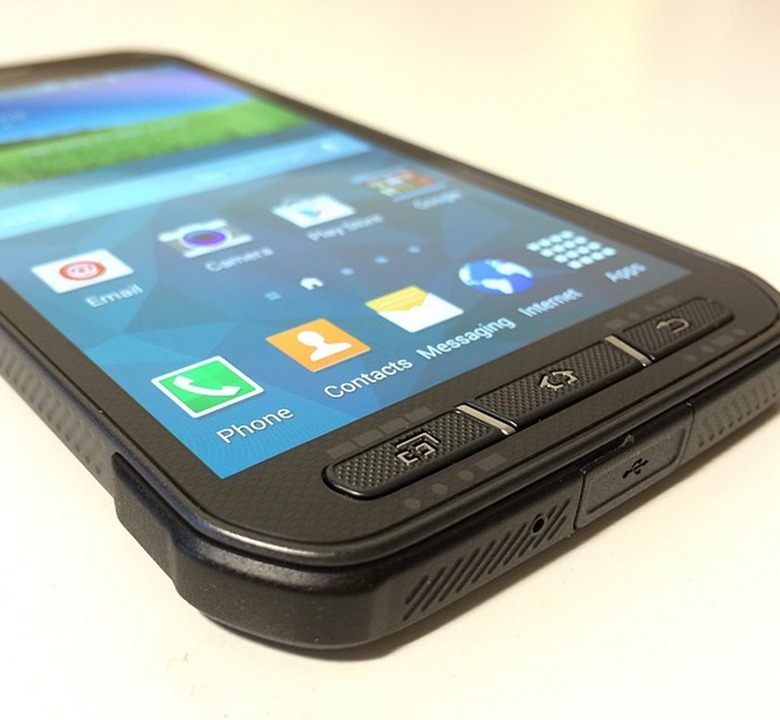 The Samsung Galaxy S5 Active has been leaked and just about confirmed as it'll get before AT&T or Samsung spills all the beans later this year. What we're seeing today is the device up close and personal – not just a render – in its AT&T form, rugged exterior included.
This device looks to be made with durable hard plastic and metal instead of the slightly less ready-for-action counterpart pieces of the Galaxy S5. Inside you'll find a 5-inch 1080p HD display, a quad-core Qualcomm Snapdragon 801 processor, and 2GB of RAM. This device also comes with Android 4.4.2 KitKat right out of the box.
In the Galaxy S5 Active you'll have a set of specifications that match those of its non-Active counterpart quite closely. The big differences are going to be in how resistant the Active model is to the elements as well as drops.
While the Galaxy S4 Active did bring some impressive underwater abilities last year, the "Active" bit didn't quite add up in the drop-ready department. Instead of meaning "rugged," the "active" bit meant "ready for water and dust." This year things are set to change up a bit.
Next you'll see a fellow by the name of TK with TK Tech News showing off the Samsung Galaxy S5 Active side-by-side with the Samsung Galaxy S5 (non-active).
This device continues to work with front-facing physical buttons able to be used underwater. It's suggested that this device will be working with a IP68 rating in elements resistance, and it'll be ready to roll for high drops.
According to TK Tech News we're set to see this machine out with AT&T and Sprint in June, while a T-Mobile will launch in July. No Verizon model is yet known. There's also a possibility of a Samsung Galaxy S5 Active Mini with model number SM-G871 for AT&T.
UPDATE: We've also found that this device likely has aluminum rails around its exterior with "hard" rubber on its top and bottom. This phone is obviously meant to be the most hardcore phone made by Samsung to date.
Hero image VIA @Keaton