Galaxy S20 5G release date and price list leaked en masse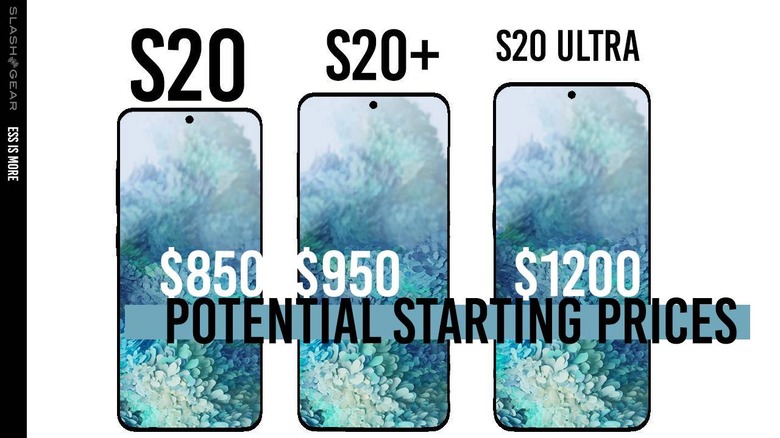 Today we're taking a peek at the Samsung Galaxy S20, S20+, and S20 Ultra release dates and pricing for this Spring. This collection was first introduced unofficially a few weeks ago, and given a closer-to-reality set of names here in January of 2020. Officially, Samsung is set to reveal the Samsung Galaxy S20 collection of phones on February 11, 2020, then the release dates and pricing will depend on region.
The Samsung Galaxy S20 was leaked earlier this month as the base model of three. The middle-of-three model is basically a slightly larger version of the Samsung Galaxy S20, named Samsung Galaxy S20+. The Samsung Galaxy S20 Ultra will be the premium model, likely costing a significant amount of cash more than the other two.
All three models are projected to roll with 5G connectivity right out the gate. This means that the Samsung Galaxy S20 Ultra will be one of the most high-end 5G smartphones in the world at launch.
Per a leak from XDA Developers' own Max Weinbach, we've got a few prices in the Euro space. The Samsung Galaxy Z Flip is sort of like the Samsung Galaxy Fold, but folded in the other direction.
So just heard S20 prices. Expect these to be lower than listed but at the moment we are expecting:

S20 5G: €900-1000
S20+ 5G: €1050-1100
S20 Ultra 5G: €1300

Galaxy Z Flip is supposed to be about €1400 but I expect that to change before launch.

— Max Weinbach (@MaxWinebach) January 20, 2020
Guesses for the versions in the United States are around $850, $950, and $1200 for starting prices for the Galaxy S20, S20+, and S20 Ultra. There'll be 4G versions of some of these devices in some regions that'll cost approximately 100-Euro less than what's listed above.
Earlier today the launch date for the Samsung Galaxy S20 was leaked for France. In the past, Samsung devices such as these have launched at the same date in France as they have in the USA and other parts of Europe. This means that the Samsung Galaxy S20 release date is likely March 13, 2020, for the USA as well as France – and a few other regions.