Today we're taking a stab at comparing the newest phones to the phones that haven't quite been released just yet. With the Samsung Galaxy S10, we've got a pretty fair pack of clues that lead us to specifications we're pretty sure of – not absolutely certain, but sure enough to make some estimations. The Huawei Mate 20 Pro, on the other hand, was officially revealed this morning by Huawei for the whole world.
The Huawei Mate 20 Pro rolls with a 6.39-inch 1440 x 3120 pixel AMOLED display with curved edges and a significant notch. The Samsung Galaxy S10 was rumored to roll with three different models at launch, the most comparable to the Mate 20 Pro would likely be the 6.44-inches. There'll likely be a lesser version with a 5.8-inch display and another version with similar specs, but also coming with a 5.8-inch display.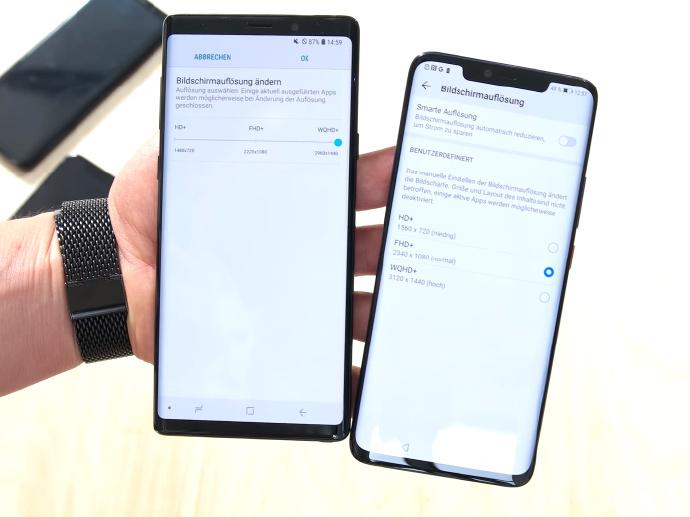 ABOVE: A Samsung Galaxy Note 9 next to a Huawei Mate 20 Pro, courtesy of Ice Universe on Weibo.. BELOW: Huawei Mate 20, iPhone X, Mate 20 Pro.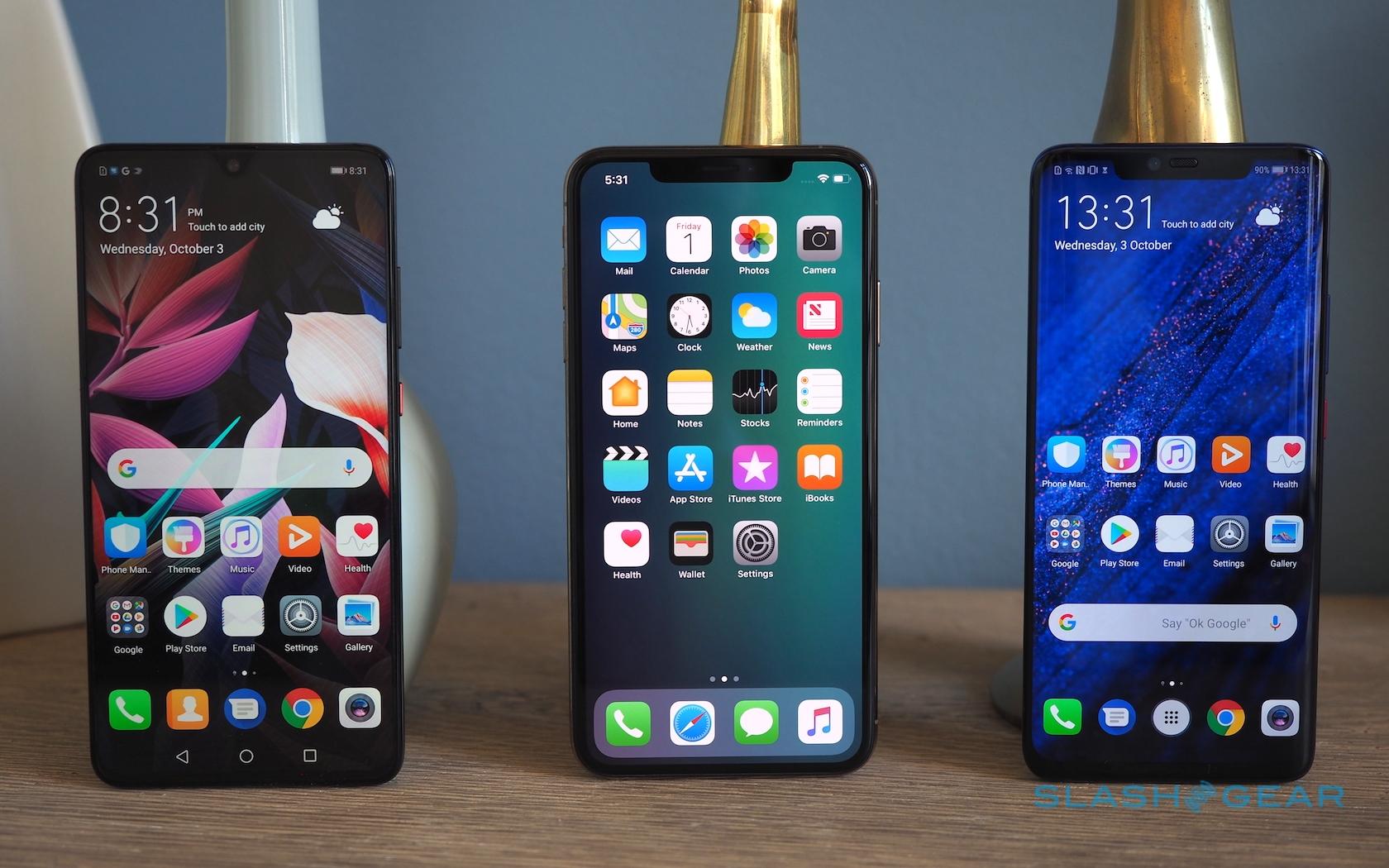 The Galaxy Note 9 has a 6.4-inch display, and the new Huawei Mate 20 X has a massive 7.2-inch display. That 20 X is larger even than the rumored extra-large Galaxy Note 10, which was rumored this week to have a 6.66-inch display. Remember, while we're doing this, that no rumors on the Galaxy S10 or the Note 10 are yet confirmed, while all the Huawei specs listed here today are as-of-this-morning entirely official.
SEE MORE: Huawei Mate 20 Pro first impressions and hands-on
The Huawei Mate 20 Pro comes with Android 9 Pie with its own Huawei-made OS version. Samsung does something similar, though they don't name it a different OS altogether. We can safely assume the Galaxy S10 will come with at least Android 9 by the time it's released in early 2019.
The Mate 20 Pro has three back-facing cameras. They are as follows:
• 40 MP, f/1.8, 27mm (wide), 1/1.7″, PDAF/Laser AF
• 20 MP, f/2.2, 17mm (ultra-wide), 1/2.7″, PDAF/Laser AF
• 8 MP, f/2.4, 80mm (telephoto), 1/4″, 5x optical zoom, OIS, PDAF/Laser AF
These cameras are arranged in a square configuration on the back of the Mate 20 Pro with a dual-LED dual-tone flash in the fourth spot. This device is able to "scan" and create 3D animated characters in augmented reality. It also has AR emojis, just like Samsung and Apple's last couple of phones.
The Samsung Galaxy S10 is rumored to come with something similar to what's on the Galaxy S9 now, but with MORE. That means a 12-megapixel f1.5/2.4 variable aperture lens as the primary camera, with two other cameras to back it up. Galaxy S10 is said to have a 2nd camera with a 16-megapixel sensor and an f1.9 aperture with 123-degree field of view, plus a 13-megapixel camera with f2.4 aperture sensor. Samsung might instead employ this four camera setup.
The Huawei Mate 20 Pro isn't going to be cheap. If you'd like the one and only size Mate 20 Pro (with 6GB RAM and 128GB internal storage), you'll be shelling out at least 1049 Euro (or over $1k USD). There's a very likely similar story happening with the Galaxy S10, assuming you're going for the largest version, comparable to the Mate 20 Pro. If so, anything less than $1k would be an absolute shock.
The Mate 20 Pro will be made available on the 16th of October, 2018 internationally. The Galaxy S10 will likely be revealed on the 24th of February, 2019, and will probably be released within the next couple weeks after that initial reveal.