Galaxy S10's Big Secret Is Sound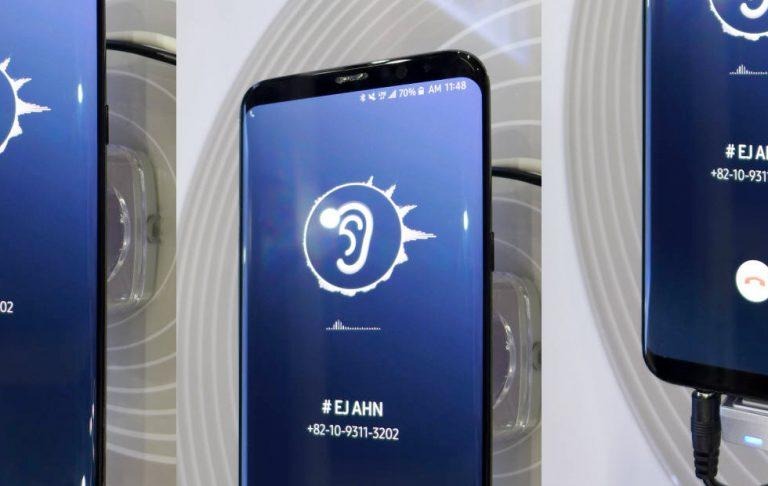 This afternoon there's word that Samsung and LG will avoid a notch in their next big smartphones. Not because they don't want to roll with a notch – they don't seem to have a big issue with that. Because, instead, both Samsung and LG might soon be producing sound-producing OLED display technology. That'll be weird to experience, no matter how you cut it.
This morning a report from ETNews suggested Samsung was well on its way to releasing sound-emitting OLED display tech. This doesn't necessarily mean Samsung will release a Galaxy S10 without a bezel at all – on the contrary. They'll likely have a bigger bezel than some of their biggest competitors.
ABOVE: Vis EN.DB, a prototype of Samsung Display's "Sound Display" technology, photographed at SID 2018 Display Week exhibition.
What it means is that Samsung might be first to the party with a new tech that'll allow them to go further with fewer visible parts. Instead of relatively large speaker grilles up front or down near the power port, Samsung could have a fully flat display glass. With sound-emitting OLED, Samsung could create new waves in industrial design in the mobile universe.
SEE TOO: Galaxy S10 release will be special, like iPhone X
LG will get in on the mix as well, if this report is to be believed. Both LG and Samsung are apparently developing this technology now and will have production-level hardware by "early next year." That means a next-level LG-G9, more than likely – and quite possibly a Samsung Galaxy S10.
Or we might see this tech appear in the Samsung Galaxy X. That's a device that's been rumored for a few years but seems to be coming toward reality right inside the 2019 market season. Samsung Galaxy X is rumored to come with a folding display, allowing one-handed use on the regular, and a larger panel when the user is at rest. That'd benefit highly from a lack of need for additional visible parts – especially since it'll be one major moving part in and of itself.
The tech is said to use a 6.2-inch panel as its testing ground, making way for the Galaxy S10 Plus or a Galaxy Note 10, easy peasy. The technology is said to use bone conduction and vibration to transmit sounds. These sounds are said to transmit between the 100 – 8000Hz range. No word yet on if this means there won't be any other sort of speakerphone tech – but we'd imagine there must be.
Have a peek at the timeline below for more information on the Samsung Galaxy S10. This device is going to be a doozy, even if that means Samsung has to release some technological breakthroughs nobody knew they wanted!