Galaxy S10+ case fits Galaxy S9+, OPPO Find X like a glove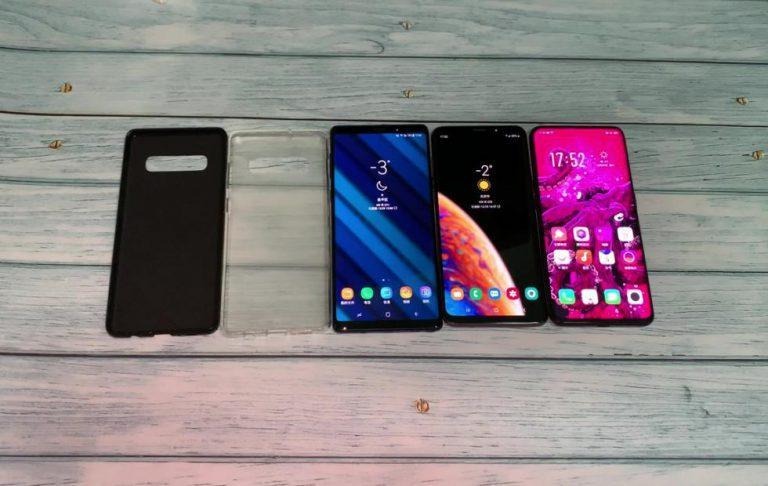 It's 2019 already, which means CES 2019 is just around the corner. But while that event might have much in store for the general tech-savvy public, Samsung fans are most likely more excited for what comes after this month. Yes, that will be the Galaxy S10, S10+, and S10 Lite reveals. Almost everything that has to be said about these phones have become common knowledge by now but mostly in isolation, A new video puts some of that in perspective by showing just how not so big the Galaxy S10+ might be.
The screen sizes of the Galaxy S10 trio and even the Galaxy Note 10 have already been leaked but, thanks to the ever-shrinking bezels, they don't always line up with actual phone sizes these days. For example, the Galaxy S10+ has been leaked to have a 6.44-inch screen. Compared to the Galaxy S9+'s 6.2 inches, you'd presume it's a slightly larger phone.
Not quite, at least based on a video from Ice universe. Two alleged protective cases for the Galaxy S10+ are shown being tried on three smartphones. It fits quite nicely with the Galaxy S9+ and the OPPO Find X, the latter with a 6.42-inch display. It won't fit the Galaxy Note 9, however, which has a smaller 6.4-inch screen.
What this means is that, if all the figures and cases are correct, the Galaxy S10+ will have more screen in the same size as the Galaxy S9+. This indirectly confirms the significant reduction of the bezels which, in turn, indirectly confirms a punch-hole cutout for the front camera.
The video also "confirms" the horizontal layout of the Galaxy S10's triple cameras as well as the presence, thankfully, of a headphone jack. One mystery, however, is an extra hole at the top edge of the protective case, which could be for the headphone jack, an IR blaster, or even an earpiece speaker.