Galaxy S III vs LG Optimus LTE 2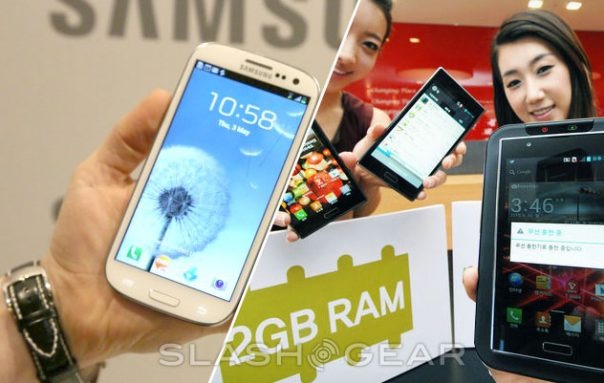 There's a war going on out there between the international smartphone manufacturers, and at this very moment it's being squared off between Samsung and LG. What we've got here are two titans, both of them having been announced just this week to the public for imminent release. The LG Optimus LTE 2 brings on a device with a screen size they've not yet revealed made with "True HD" IPS technology – that being more than likely much sharper than what you'll see on the Galaxy S III, Samsung's contribution to this equation being a full-on attack with a solid smartphone hardware arrangement and a whole new look at software.
Having a closer look at the LG Optimus LTE 2 we see that they've revealed some, but not all of the specifications of the device as it'll appear in the wild. You'll find the look to be much more square than the Galaxy S III (which has a nature-themed bit of software inside of a pebble-shaped device), and the LG device will more than likely be released with a dual-core processor along the lines of the Qualcomm Snapdragon S4. The reasoning behind this is that LG has noted that its processing chip will have integrated LTE connectivity. The battery in this device will be a massive 2,150mAh with "40 percent more" usage time for you than the previous LG powerhouse known as the Optimus LTE – also known as the LG Nitro HD.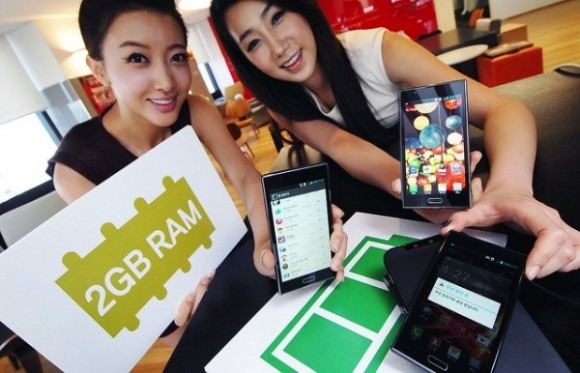 The most important bit of detail that LG has decided to share thus far on the Optimus LTE 2 is its massive 2GB of RAM. This extra memory will bring what LG says is much higher stability for Android than we've ever seen before. Meanwhile the Samsung Galaxy S III will have 1GB of RAM and has certainly shown itself to be as stable as any device we've yet laid hands on.
Samsung Galaxy S III hands-on:
[vms 10d9b7e9abed244dd2f2]
The Galaxy S III contains an Exynos quad-core processor, will be working with HSPA+ as well as LTE in different areas of the world, and has a 4.8-inch 720 x 1280 306ppi HD Super AMOLED display up front. The back of the device is plastic (like the LG device) but here has what Samsung calls a "hyperglaze" coating to reduce the likelihood of scratches. This Galaxy device has also had all of its specifications revealed as opposed to next-to-none as it is with the LG device, and we've got more information and hands-on experiences for you in our timeline below than you can handle!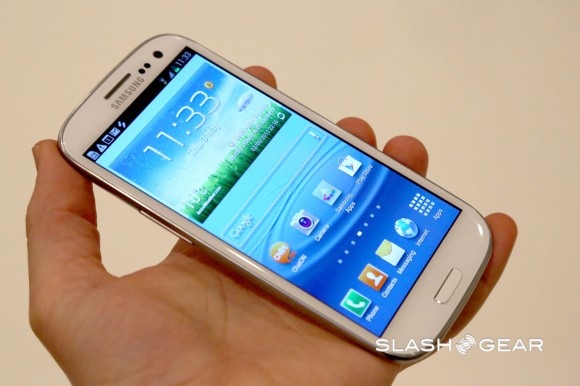 The decision between these two devices might be made for you before you even make it as the LG device is likely going to have a much smaller release area than the Samsung Galaxy S III, with the GSIII already being announced to have USA versions appearing perhaps inside 2012. We'll see soon!