Galaxy S III hits T-Mobile USA today: AT&T and Verizon must wait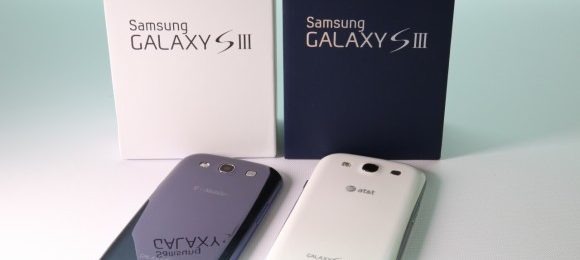 Samsung's much-anticipated Galaxy S III has finally arrived in the US, though it's not quite the simultaneous multi-carrier gush we were hoping for. T-Mobile USA is the only place to pick up the Galaxy S III today, with the handset priced from $279.99 for the 16GB version with a new, two-year agreement.
Both blue and white versions are offered, and there's the 32GB model – again, in both colors and with a new, two-year agreement – for $329.99. The handset differs from its European counterpart in that it uses Qualcomm's dual-core 1.5GHz Snapdragon S4 chipset and supports up to 42Mbps HSPA+, network depending, though if you hold out a little longer there'll be LTE variants arriving on other US carriers.
AT&T and Verizon are among the operators which will be offering LTE Galaxy S III models. Verizon's will be $199.99 with a new, two-year agreement for the 16GB version (and $249.99 for the 32GB), set to begin shipping on July 11, while AT&T's will be priced the same and ship from around June 25.
Samsung Galaxy S III S Beam demo:
As for accessories, Samsung says the Universal Multimedia Desktop Dock, Spare Battery Charging System, Universal Vehicle Navigation Mount, and Protective Flip Cover (available in Pebble Blue, Marble White, Light Blue, Green & Pink) are all available from today, along with the Protective Cover (in Transparent Blue, Transparent Pink, Opaque Blue & Opaque Green), Ultra Slim Cover (in Transparent Blue and Clear), the C-Pen, and the HDTV Smart Adapter (with 11 Pin Adapter Tip). The AllShare Cash Hub and Premium Audio Dock will arrive "in the coming weeks."
All the details on the AT&T and T-Mobile versions in our full review.