Galaxy Note II to be $300 with T-Mobile contract, according to leak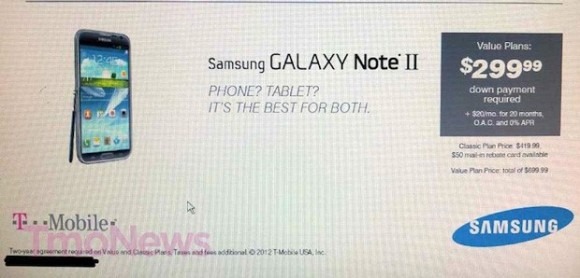 Earlier today, a screenshot appeared showing the upcoming Samsung Galaxy Note II smartphone at T-Mobile for $300 with a Value Plans contract. A short while later, another picture surfaced over at Phandroid seemingly confirming the carrier's plan to launch the smartphone tomorrow. The document reads: "Additional information will be made available closer to the launch date, which is October 24th."
According to the T-Mobile snapshot, the Galaxy Note 2 will be available to Classic Plan customers for $419.99 with a $50 rebate. Of course, the prices could change once the phone is actually launched. The Note 2 will be available from five major carriers: Verizon, T-Mobile, AT&T, Sprint, and U.S. Cellular.
The Galaxy Note 2 is a much-anticipated phablet smartphone featuring a huge 5.5-inch display and a weight of about 182g. The display, the smartphone's most alluring feature, is an HD Super AMOLED panel with a 1280 x 720 resolution. The Note 2's display is noticeably improved over the original Galaxy Note.
As far as the rest of the phone goes, this smartphone runs a 1.6GHz Exynos processor with 2GB of RAM. It comes in three varieties: 16GB, 32GB, and 64GB, and has a microSD slot for further expansion. The battery is a sizable 3100mAh, so it lasts long despite its large screen. Check out our review of the Galaxy Note 2 for full details.
[via TmoNews]