Galaxy Note 9 "official" image: Shocker or Non-shocker!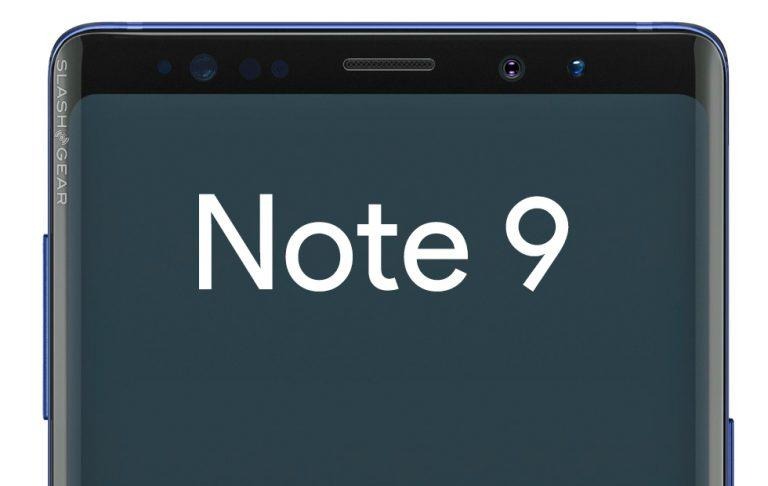 The biggest non-shock of the day comes from a leaked "official" render of the Samsung Galaxy Note 9. This device appears today with a series of sensors and cameras up front with a power button, a Bixby button, and a volume rocker around the edges. This smartphone looks a whole lot like what we've seen in earlier leaks, complete with location and size of elements of all sorts.
The image you're seeing just below this paragraph comes from Android Headlines where they suggest they've been in contact with a reliable source who wished to remain anonymous, but had some sweet details up for the grabbing. That source suggested that this was, indeed, the Samsung Galaxy Note 9, and that the device image is as official a official gets – without Samsung coming out and saying THIS IS IT right in our collective faces.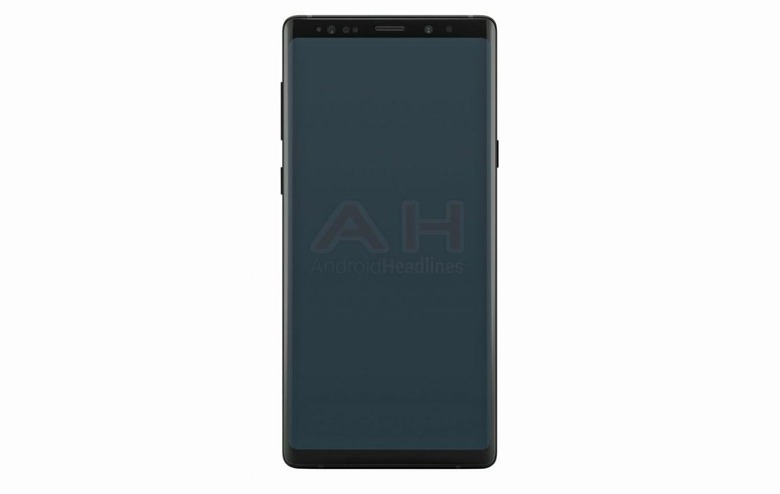 NOTE: At the head of the article (above the black-backed Galaxy Note 9 rendering just above this paragraph) is an earlier rendering/reconstruction of the Galaxy Note 9 made by SlashGear with bits and pieces of older Note devices. It's like a Victor Frankenstein's Monster sort of situation, in blue!
We can learn just a bit about this device with the image – or confirm what we sort of guessed at in the very recent past. There's a Bixby button that'll call upon Samsung's voice assistant. There's a power/lock button. There's a volume rocker to turn sound up and down. These buttons are on the left and right of the smartphone, while no buttons appear on top or on bottom.
We can see a pair of light spots at the top temples of the phone – these are antenna lines. In modern smartphones with said lines, these bits of material allow wireless signals to be sent and received by the smartphone while the rest of the phone works with materials that might not otherwise work with said technological advances. These spots are slightly lighter silver or gray, here, while the rest of the phone is black.
If what we're seeing here is true, the specs we've been working with over the past couple of weeks are also likely accurate. To the left you'll see finalized Galaxy Note 8 specs. To the right, you'll find Galaxy Note 9 specs made up of leaks and anonymous insider tip data bits we've collected over the past several months.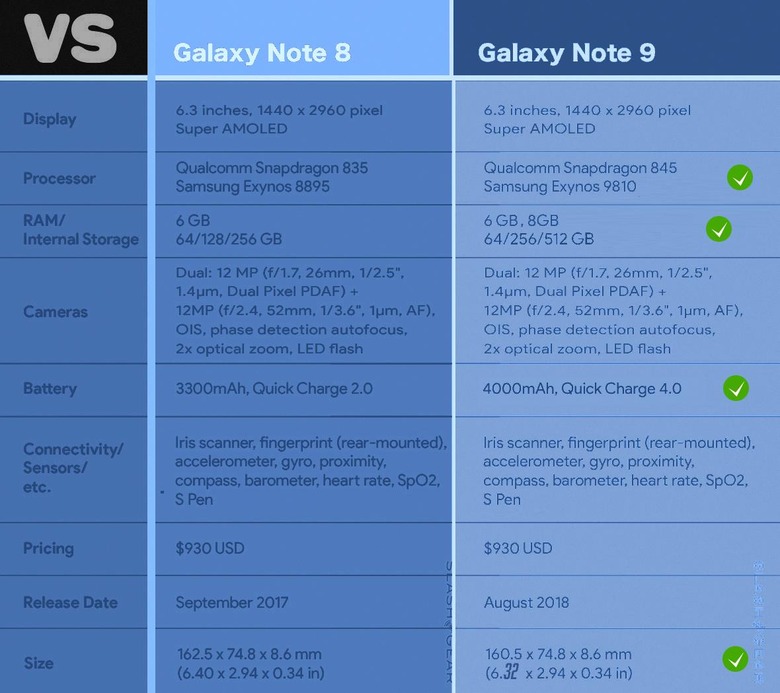 It's all come down to this: an event on August 9th, 2018. At that time in New York City we'll see the Galaxy Note 9 for all its worth, up close and personal. We're expecting pre-orders to start that week as well, then in-store availability within the month. Stay tuned for more!