Galaxy Note 7 recall instructions: What you need to know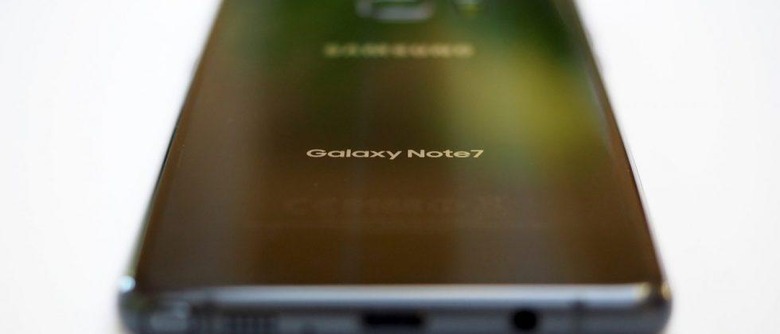 The Samsung Galaxy Note 7 recall is official, with Samsung making clear that all models of the Galaxy Note 7 should not be used from this point forward. Users that own the Samsung Galaxy Note 7 should take care not to charge their devices nor, if possible, even use the devices at all until replacements can be distributed. Samsung has issued an official statement on the subject and all major carriers of the device in the United States have issued instructions for early buyers.
What Happened?
On the 31st of August 2016, Samsung confirmed with Reuters that they were delaying shipments of the Galaxy Note 7. They suggested that shipments had been delayed for "quality control testing," and that – at that time – shipments to the top three mobile carriers in South Korea had been stopped. Not long after that, Samsung issued a statement to the world – as follows: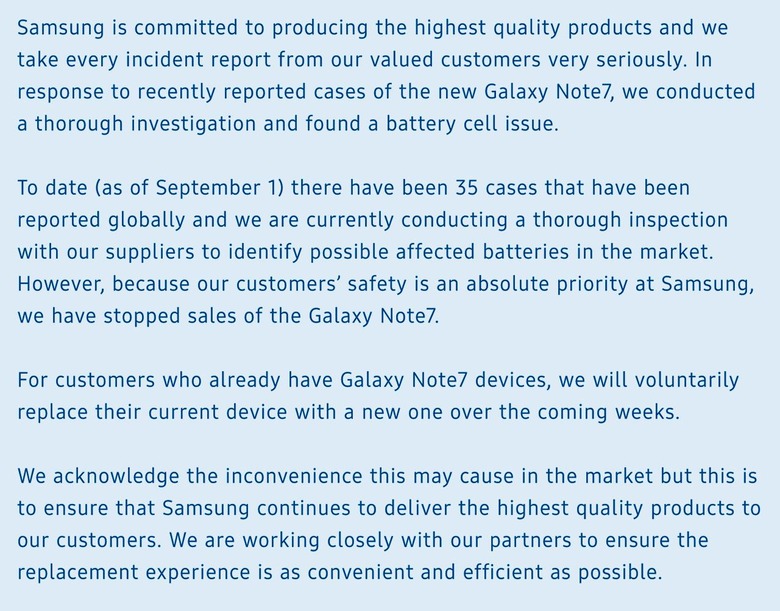 The issue is with the battery, not necessarily with the Note itself. Regardless, users – ALL USERS – should take caution in handling the Galaxy Note 7 until replacement units can be administered.
How many Note 7 units are defective?
None, technically. Again – it's the battery that's screwy. But because the battery is not easily removed by every user, the entire device must be recalled instead.
Important points from the associated press conference on this subject:
1. Samsung suggests that 24 of every 1-million units sold are defective.
2. That comes to approximately 1-per every 42k sold.
3. Samsung says 35 have been reported defective thus far.
Fun Fact: If (by some impossibly miracle) all cases had already been reported and Samsung's numbers hold up, the company will have sold about 1,470,000 devices since the Galaxy Note 7 went on sale in mid-August.
How to get a new device
As of right this minute, Samsung has not released instructions on how they prefer users get a new device. Carriers, on the other hand, have stepped up with statements and instructions of their own.
UPDATE: Samsung Recall Instructions
UPDATE 4PM Central, September 2nd, 2016: Samsung issued a full set of exchange instructions, as follows:
"For customers, who have Galaxy Note7 devices, Samsung will voluntarily replace their current device with a new one from today."
The US Product Exchange Program will offer consumers the following choices:
1. Exchange current Galaxy Note7 device with a new Galaxy Note7 (as early as next week)
2. Exchange current Galaxy Note7 for a Galaxy S7 or Galaxy S7 edge and replacement of any Note7 specific accessories with a refund of the price difference between devices.
"As a gesture of appreciation, consumers will receive a $25 gift card or bill credit from select carrier retail outlets when choosing a Galaxy S7 family device or the Galaxy Note 7 within the exchange program," said a Samsung representative in a statement.
"Galaxy Note 7 owners can contact or visit the retail outlet where they purchased their device or call 1-800-SAMSUNG to initiate a product exchange and to resolve any other questions or concerns."
Verizon Recall Policy
Verizon has stopped selling the Galaxy Note 7 and is offering a full return and exchange program. Through the 30th of September, 2016, all users can return their Verizon Galaxy Note 7 to their local store to return or exchange their device for no fee.
This comes from Verizon's Tweet on the subject.
AT&T Return Policy
AT&T has issued a statement to the press. This statement reads as follows: "Samsung has notified us that they have identified a battery cell issue in certain Galaxy Note7s. They have asked all retailers, including AT&T, to stop selling the device. We are in the process of determining the exchange process for our customers and how they can replace their current Note7 as quickly as possible. We will have more information later today."
We'll follow up with return and exchange information as soon as AT&T provides it.
T-Mobile Return Policy
T-Mobile has suggested they'll be giving full, complete refunds on any Samsung Galaxy Note 7 devices and accessories for the Note 7 they purchased at T-Mobile. They will also "waive any restocking charges and shipping fees, and customers can keep the free Netflix subscription they received with purchase during pre-order."
This information comes from the T-Mobile newsroom.
If T-Mobile's statement is to be taken as gospel truth, replacement units could be arriving "in the next two weeks."
Sprint Return Policy
Sprint is being ever-so-slightly different in the way they speak about this device return and exchange. They suggest that "those customers that previously purchased the Note 7 we will offer them a similar device until the issue is resolved." It's not clear whether this exchange/return situation with Sprint is free or not. We shall see.
This communication comes from Sprint's Newsroom.