Galaxy Note 7 leaked photos show off its curves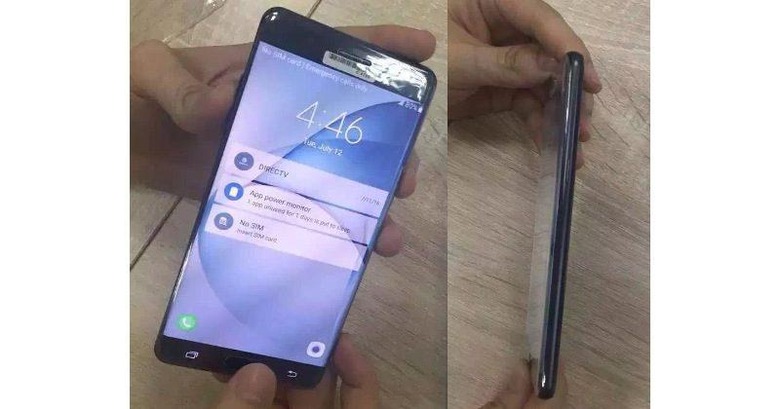 Just a few hours ago we heard word from Korean media about how the Galaxy Note 7 could possibly be even thinner than ever before, thanks to a new display technology that Samsung has been working on. And now we're actually seeing pictures of what the Galaxy Note 7 is going to be, if the source is credible, of course. And though it may not be as thin as expected from a display with integrated touch controller, it definitely looks the part, thanks to its doubly curved edges.
It may be too soon for the "Y-OCTA" tech to make its way to production, or perhaps it won't exactly have substantial slimming qualities. But the Galaxy Note 7 will still look quite slim, at least when viewed from the sides.
The photos posted on Weibo show off the rumored and expected though still not completely confirmed curved screen edges of an alleged Galaxy Note 7, pretty much like the Galaxy S7 edge. But the Galaxy Note 7's back is also curved at the sides, also like the Galaxy S7 edge and the Galaxy Note 5 before it. This has the effect of making the smartphone's side edges look slim from that angle.
That illusion is somewhat broken when the smartphone is viewed from the top, as neither front nor back edges taper there. That said, it would seem that Samsung has made the top edge rounder, much like the Galaxy S7 edge, unlike the Galaxy Note 5.
Not shown here is the bottom of the device, which would indicate the S Pen (or "ES Pen" as some leaks called it) and confirm that this is indeed the Galaxy Note 7. Not that we can completely believe that it is indeed the device. Fortunately, we only have less than three weeks to wait for confirmation.
VIA: Weibo