Galaxy Note 7 iFixit teardown earns low repairability score, highlights waterproof parts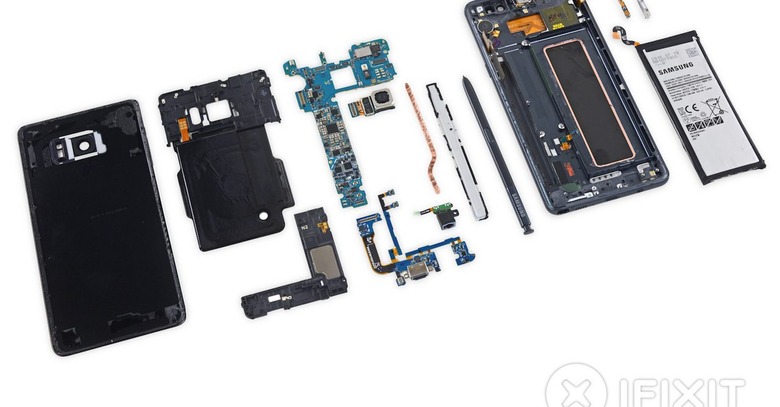 Samsung's newest flagship device, the Galaxy Note 7, has just been subjected to the teardown experts at iFixit. The bad news is that the phablet earned a repairability score of 4 out of 10, only slightly better than the Galaxy S7's 3 out of 10. However, iFixit's writeup also reveals that several components are still replaceable, and a number of other parts are completely sealed, contributing to the Note 7's waterproof feature.
The two biggest issues that lower the Note 7's repairability score are the curved screen, which makes replacing the glass almost impossible without also causing damage to the display itself. The second is that while the device's glass front and rear make for impressive engineering, it also doubles the "crackability," and the amount of adhesive used on the back makes just getting inside a difficult process.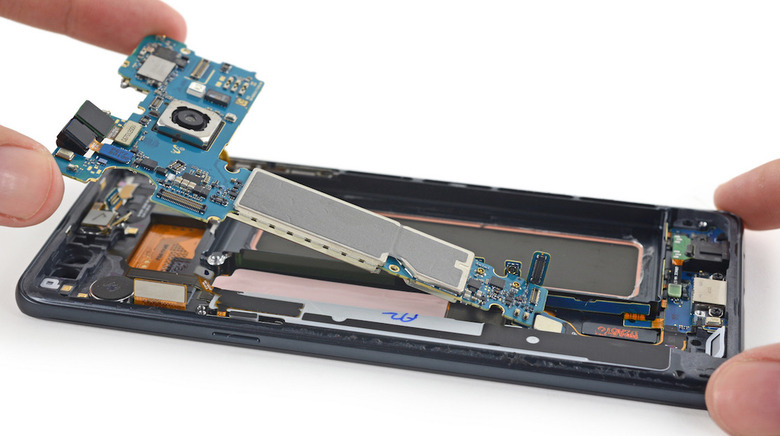 Among the components that are easy to access include the charging port board, which can be removed independently of the screen thanks to improved cable routing. Similarly, the battery can also be replaced without having to remove the entire motherboard, but the use of strong adhesive prevents this from being easy or simple.
Contributing to the Note 7's IP68 waterproof rating are a sealed headphone jack, speaker grille, and the S Pen chamber. This is achieved through the use of gaskets, lots of glue, and other methods, allowing the phone to survive up to 30 minutes underwater. The new S Pen chamber also means the stylus can't be forced in backwards, an issue with last year's Galaxy Note 5.
Other interesting discoveries include the use of the same main camera from the Galaxy S7, in addition to the chipset, and that the iris scanner relies on a third camera.
To get the full details on the teardown, or just dig into the Note 7's guts vicariously through iFixit, be sure to check out their exhaustive writeup or watch the highlights video above.
SOURCE iFixit