Right on top of the first relatively-full specifications leak of the Samsung Galaxy Note 4 last week, this week we're having a peek at a couple of test device images. This device could just as easily be a test phone unit for a long-lost Samsung Galaxy F as it could for the Note, but given the larger display sitting up from of this machine, we're going with the S Pen-toting machine. This device is square because it's resting inside a case which hides its shape for testing purposes.
The machine you're looking at here is sitting hear a document which reads 3/15/2014, which implies that it's inside a country which sets its dates month / day / year. The device itself, on the other hand, is showing text with a mix between Korean and English.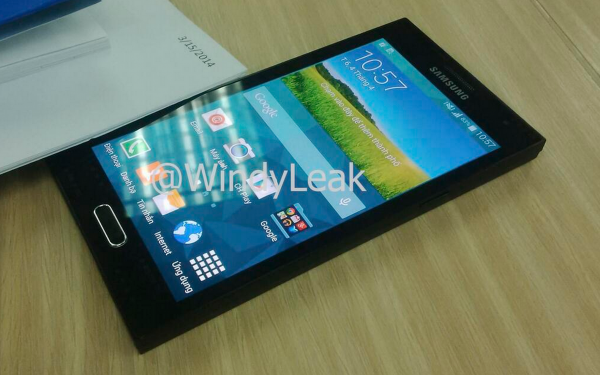 Software on this next-generation device looks to be very similar to that of the Galaxy S5, wallpaper and everything. It's likely this device is being tested for display sharpness, brightness, and battery life, as well as software functionality on the device set for release later this year.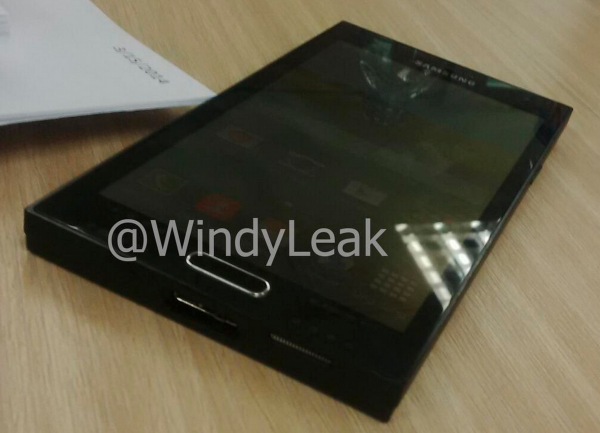 The front-facing button on this device matches that of the Samsung Galaxy S5 as you'll see in the Galaxy S5 hands-on video below this paragraph. There you'll also see some functions that'll likely be appearing on this release as well.
The source of this leak, @WindyLeak, suggests that both images show the same device and that we're seeing a 2K display. This matches up well with our previous notes on the Galaxy Note 4, there finding rumors of a 2K display – that's 2560 × 1440 pixels sharp, and a step up from the Galaxy S5 which uses a 1920 x 1080 display panel, the same amount of pixels as the Galaxy S4.
This device is also said to be coming with a next-generation Qualcomm Snapdragon 801 processor and waterproofing as well as rustproofing. We'll more than likely see a camera that's nearly – but not quite – as impressive as the Samsung Galaxy S5, as in past years in comparisons between the headliner and the larger device.
VIA: @WindyLeak