Galaxy Note 10 release date confirmed: Here's what we know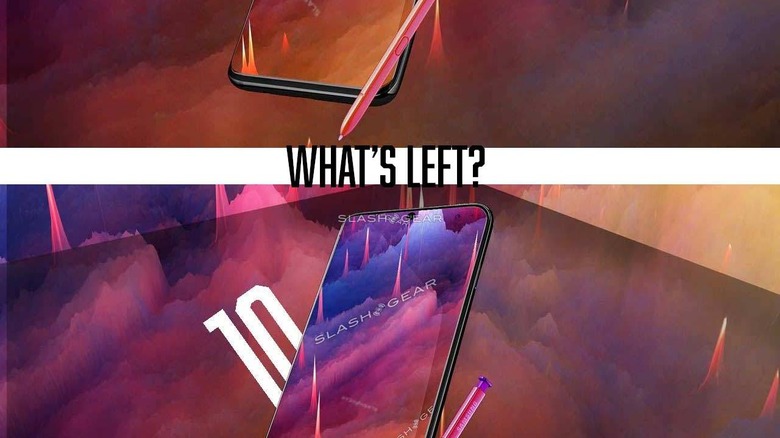 Today we're taking a peek at the Samsung Galaxy Note 10 and its newest round of leaks. These leaks essentially complete the picture for the smartphone family, all two models, both standard and Plus (or Pro, if you still prefer to call it such a thing). The Samsung Galaxy Note 10 will be shown in full for the first time on August 7, 2019.
The next Samsung Galaxy Note smartphone will likely appear in a couple of different forms starting on August 7, 2019, at an event hosted by Samsung. This event will be called Samsung Galaxy UNPACKED 2019, much like previous Galaxy smartphone events. You'll find a video showing this event's big tease below.
This device saw a rather sizable leak this week with a Verizon buy-one-get-one sort of deal. This deal, represented with a single graphic, showed that users could potentially reserve themselves a Samsung Galaxy Note 10 5G (released later this year) and get a standard Galaxy Note 10 at the same time.
If you're all about getting the phone sight-unseen (at least in an official sense), you'll be able to do that starting ... right now, actually. If you'd like to "reserve" the phone, you can do so through a just announced site aimed specifically at that one purpose.
That site gives up a bit of information on the smartphone, including some obvious bits: There'll be an unlocked version. There'll be a version that works with Verizon, AT&T, T-Mobile, Sprint, and – whoa, shock, US Cellular. Users could take advantage of a "trade-in offer" as it were, getting "a $50 instant credit towards eligible devices and accessories."
The period for this $50 thing's usability (getting the credit in the first place, that is,) is listed as "July 25, 2019 at 12:01a.m. ET to August 7, 2019 at 11:59 p.m. ET." which means we'll likely see the "pre-order" period start on August 8, 2019.
Galaxy Note 10 Release Date
The Galaxy Note 10 release date will be August 23, 2019, barring some unforeseen set of miraculous circumstances. It's been suggested earlier this year in leaks that the release date could come as early as the 22nd, but chances are far better now that the 23rd of August is the one true date where the Galaxy Note 10 will be shipped first, available in-stores that same week.