Galaxy Nexus sales frozen: Google promises imminent fix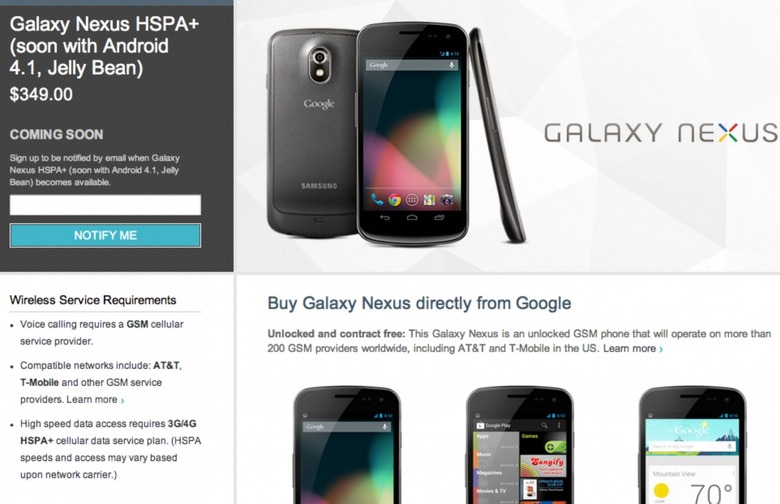 We may receive a commission on purchases made from links.
Google has pulled the Galaxy Nexus from its official Play store, no longer offering the unlocked, HSPA+ version of the Samsung smartphone after Apple convinced a judge to preserve its preliminary injunction. As of this morning, the Galaxy Nexus listing shows the handset as "coming soon" with a sign-up box for notifications; exactly when it will go on sale is unclear, though some suggestions indicate a workaround might mean that happens sooner rather than later and Google has promised it will hit shelves again sometime next week.
According to earlier reports, Samsung and Google are cooking up a temporary fix to Google Now that the two companies believe will rescue it from Apple's injunction. That, it's believed, will include removing some of the local results from Google Now – a new part of Android 4.1 Jelly Bean announced at Google IO last week – and it will be pushed out "imminently" according to AllThingsD.
Nonetheless, if you want to buy a Galaxy Nexus any time soon, it looks like you'll have a struggle finding one at Google's $349 price. Expansys USA is listing that there is "no confirmed lead time" for stock to go on sale again, and while Amazon Marketplace sellers are still offering the phone, they're generally doing so at a $100 premium.
Meanwhile Verizon's CDMA/LTE version of the Galaxy Nexus is still apparently for sale via the carrier's site, though it's uncertain if orders will actually go through or if the company is merely yet to update its product pages.
Meanwhile, Google and Samsung are readying a challenge at the US Patent and Trademark office to have Apple's patents struck down. Google will also support Samsung in its specific attempts to have the injunction overturned.