Galaxy Nexus launch day blunders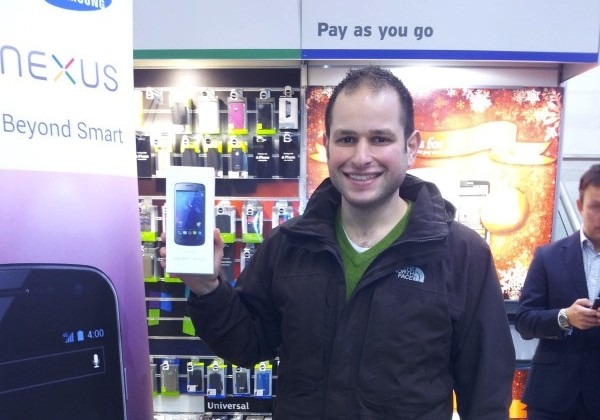 Samsung's Galaxy Nexus went on sale in the UK this morning, but retailer Phones 4U's exclusivity period hasn't gone entirely smoothly. The first in line this morning to buy the Ice Cream Sandwich smartphone – promptly tweeted out by Samsung UK - actually received a device running what was apparently a test ROM, Engadget reports, and had to return to have his phone exchanged. Meanwhile, Phones 4U has confirmed to us that, while no mention of SIM-free handset sales is made on the company's site, the Galaxy Nexus is available unlocked and off-contract; in fact, we believe more unlocked devices than contract devices have been sold today.
We stopped by the Oxford Street, London, Phones 4U store which has been exclusively selling the Galaxy Nexus since 8am UK time to find out about availability and sales. While Phones 4U PR – and indeed the sales staff we spoke to on the phone ahead of time – told us the unlocked Galaxy Nexus was priced at £549.99 ($868), in-store we were quoted £529.99 ($837). However, other stores had told us that unlocked sales would not be allowed at all, leading to frustration among Android developers wanting the official Googlephone to test their apps on Ice Cream Sandwich.
As for sales themselves, staff in store informed us that, by 1pm UK time, around 70 unlocked Galaxy Nexus handsets had been sold, along with around 20 devices sold with carrier agreements. It's important to note that these aren't official figures from the retailer, of course.
First buyer Alex Ioannou, shown with his initial Galaxy Nexus device above, now has a replacement phone. The original lacked options for normal Android features like adding Gmail accounts, and included various developer/tester features such as fault reporting.