Galaxy Nexus ICS ROM restores Facebook contacts sync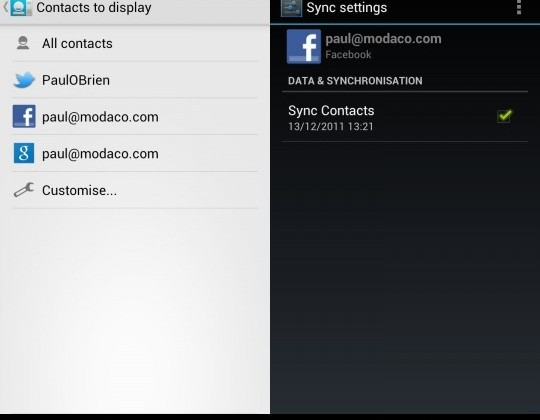 Facebook and Google may have fallen out over contacts sync, Google stripping support for adding Facebook friends into the Android address book back in the Nexus S days, but that hasn't stopped modders from adding it back into Ice Cream Sandwich. A newly released MoDaCo ROM includes contacts sync support once more, along with some relatively low resolution contact photos that show up for each user.
By default, although the Facebook app is available for use on Ice Cream Sandwich handsets, it doesn't support integration of Facebook friends with the new People app in Android 4.0. Officially, that's down to Facebook not falling in with Google's data policy, with the fact that the previous behavior "created a false sense of data portability" as contacts were updated with information but those details couldn't then be exported off the handset.
Unofficially, however, the decision was seen as a further cooling of the relationship between Google and Facebook, particularly with regards to how much access to user data each granted. The stripping of official contacts sync support was followed by various blocking attempts as Facebook tried to stop its members from exporting their information and loading it into Google+.
This unofficial Galaxy Nexus ROM is unconcerned with the political spats of social networks, of course, and focuses more on giving ICS users the best experience. More on Ice Cream Sandwich in our full review.
[via Android Community]