Galaxy J2 leaked images highlight standard black version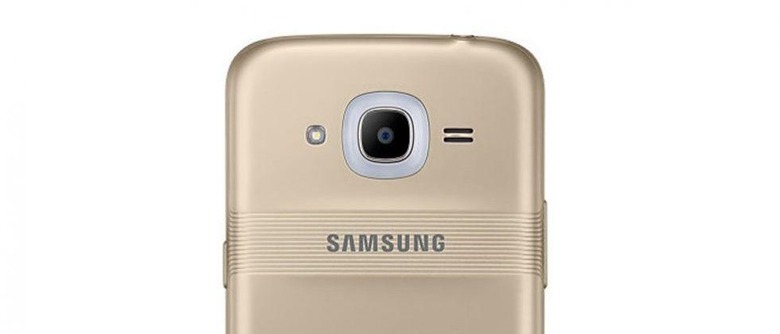 Yesterday we talked a bit about the Galaxy J2 smartphone that had leaked in a few images showing the Smart Glow ring and a couple other shots. In those leaked images, the Galaxy J2 was clad in an attractive gold color but if you are the sort who doesn't like your smartphone to stand out, you might be more interested in the new leaked photos that have surfaced.
In these new leaked photos, the Samsung Galaxy J2 is seen in its basic black color. Normally I prefer black phones, but on the J2, I think that I may like the gold version better. Just like the gold version, the black version has the prominent Smart Glow ring around its rear camera.
That Smart Glow is a new method of notifying the user of all sorts of things from the standard notifications for messages to weather forecasts and lots more. The glow color and flash rate are completely customizable and you will be able to assign specific Smart Glow patterns to specific users. There are no specs leaked along with these new images.
While we aren't sure what specs the J2 will pack inside, we do know that since the device isn't a high-end phone they will be modest. It's interesting that the Smart Glow feature is debuting on a mid-range device. Perhaps Samsung wants to gauge interest in it before Smart Glow is grafted onto their higher-end devices. Samsung has said that the Smart Glow ring will even be able to read a user's pulse. That is a nifty feature, even if a bit strange. The J2 will launch in India later this week according to reports. To learn more about the smart Glow feature, check out our story on Smart Glow.