Galaxy F Foldable Phone made simple: A quick list of basics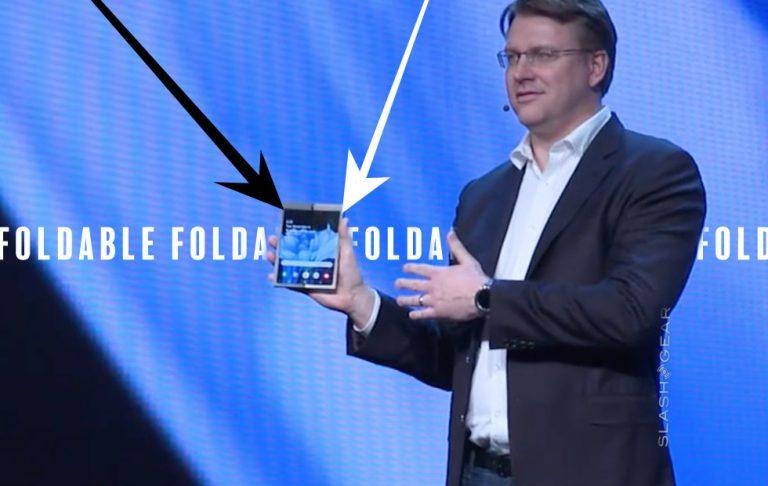 This week both Samsung and Google broke down the components of the upcoming "foldables" trend in smartphones, starting with the next Galaxy. Today we're going to break down the basics and try to get a baseline understanding of what these folding display-toting devices are all about. Speaking this week at the Android Dev Summit 2018 were Adrian Roos, Engineer for Android Frameworks at Google, Andrii Kulian, also Engineer for Android Frameworks at Google, and Jisun Park for Samsung Mobile.
Samsung Foldable
The device we're talking about here we'll call Samsung Galaxy F. We'll use F for foldable, to make it easy here before we know the full official name. This device was not yet shown or leaked in its final form – to our knowledge, no public source has images or video of this device in its final form. The device WAS shown at the Samsung Developer Conference this week, but heavily masked by a demo case.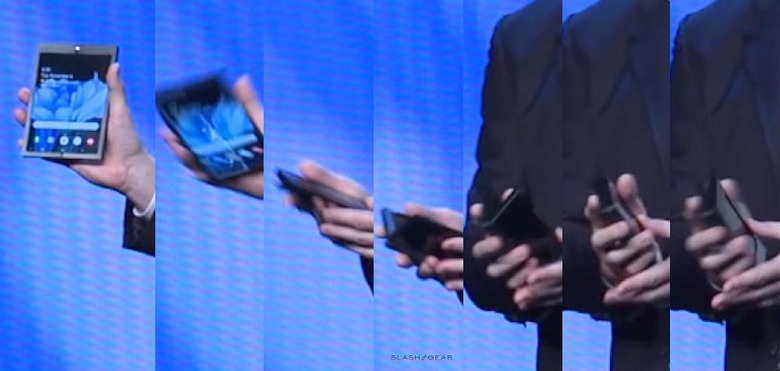 Above you'll see the device in as public a view as it's been shown thus far. This device was shown onstage at the Samsung Developer Conference with a massive blocky case over its body to make certain only its displays could be seen. We're not certain of its final form, but Samsung has suggested a few specs that we can see well in advance of the big reveal of the device itself.
Samsung Galaxy Foldable Device Specs:• Cover Display: 4.58-inches, 21:9 aspect ratio, HD+ (840 x 1960 pixels, 420 DPI, smallest screen width 320 dp, "screen size: normal"• Main Display: 7.3-inches, 4.2:3 aspect ratio, QXGA+ (1536 x 2152 pixels, 420 DPI, smallest screen width 585 dp, "screen size: large"• Display Tech Branding: Samsung Infinity Flex Display• Special Abilities: Folding display, support for multiple apps running at once in one window (called Multi Active Window by Samsung)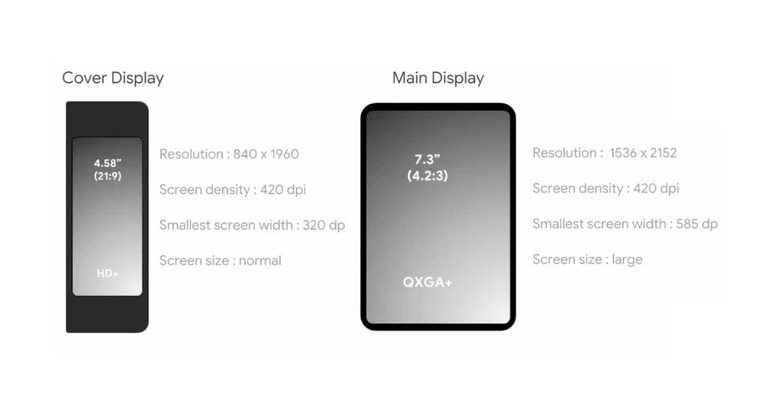 The above specs and a few other details were shared this week in our feature about the Samsung Infinity Flex display – the display that'll be used in the first Galaxy F foldable smartphone from Samsung.
Multi-Display
This first foldable smartphone has two displays. One display is on the outside, functional while the device is folded. Another display is foldable and is functional only while the device is fully open and the display is unfolded. The names chosen by Google and Samsung for these two separate displays are as follows.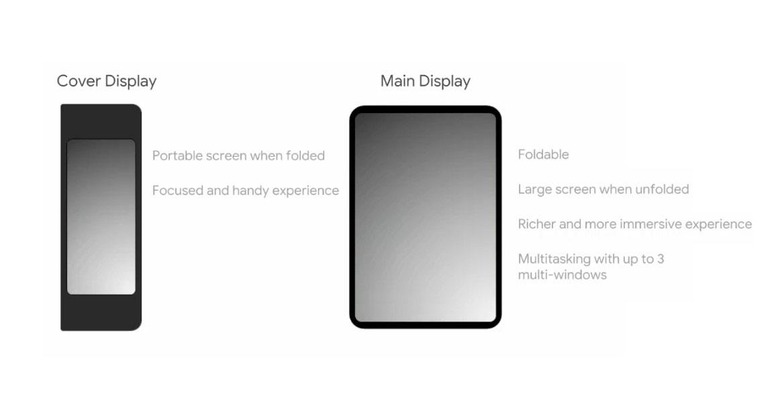 • Cover Display: Functional while the Main Display is folded and device is in its most compact form, works basically like traditional phone• Main Display: Functional while phone is fully unfolded, display is flexible, larger than the Cover Display, works with multi-windows
Every app that works in the "Folded Mode" works in the "Unfolded Mode." Google is telling developers this week that every app that works in Folded Mode must instantly and smoothly transition from Folded Mode to Unfolded mode.
Multi-Window
Once the device is opened to its larger, foldable display, you'll find further separation of functions. They call this Multi-Window, branding Multi Active Window. This functionality is similar to what we've got on many other Android devices today – only separated beyond 2 units.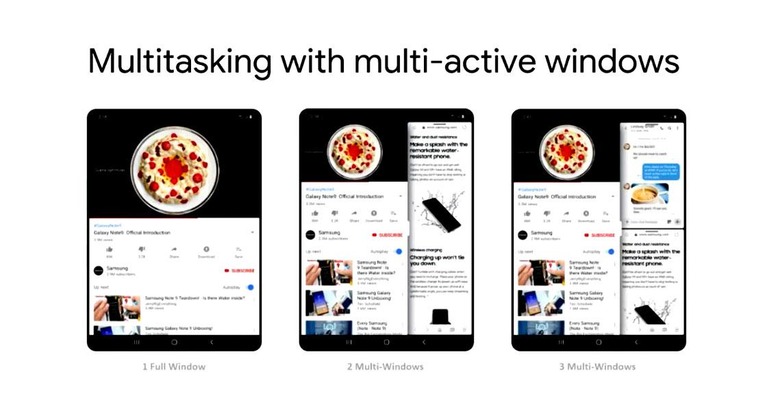 As shared by Park this week, the expanded "Main Display" can show up to 3 multi-windows at a time. The Main Display can be used in Multi-Window mode or in Full Window mode – 1, 2, or 3 apps at a time.
Traditional Use
When folded, the device's Cover Display is active. "In this mode, the experience is very similar to your daily smartphone use," said Park. "But compared to the main display, the experience is more focused and handy – for quick interactions, to actually leverage the small screen."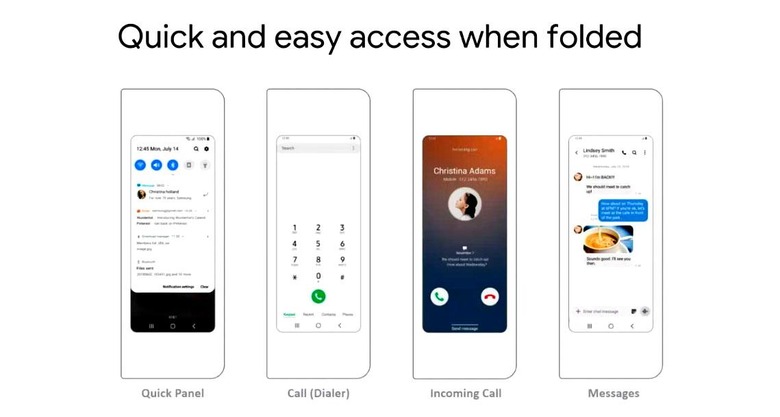 Above you'll see some of what Samsung's working on for their Galaxy F's Cover Display. A "Quick Panel" not unlike what we've currently got in a pulldown menu for notifications and toggles, a phone dialer, incoming call screen, and messages. Simple stuff. Park made sure to mention that, while folded, "the phone is still fully functional, like a normal smartphone."
Welcome to Thunderdo... Folding Phones!
This is only the beginning. It should be clear at this point that Samsung has a phone that'll probably be released to the public as a consumer device in the year 2019. It should also be clear that other companies will have foldable Android devices, too – otherwise Google wouldn't be putting in this level of effort. For now, details are few because developers are just getting in on the action. Once the ideas start to flow, the hardware will come fast and furious – we can't wait!