Galaxy A90 to have a sliding and rotating camera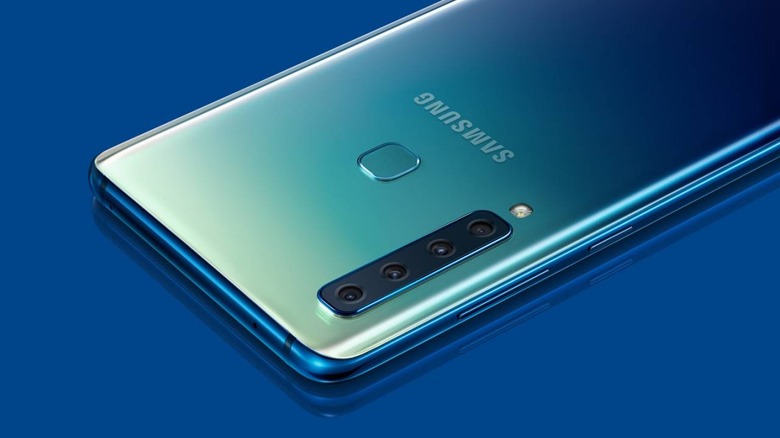 When Samsung said that its Galaxy A series would be receiving "innovation" before its premium Galaxy S series, it wasn't joking. Galaxy A phones were the first from Samsung's roster to get quadruple cameras like the Galaxy A9 above, side button fingerprint scanners, and Infinity-O hole-punch displays. Now an upcoming Galaxy A90 might have another Samsung first, a camera that not only slides out from the top but also rotates to remove the need for a front camera in the first place.
Admittedly, most of these innovations are all for the sake of reducing the bezels and notches around screens, specifically the top ones. A few solutions have already been made, including elevating cameras like the Vivo NEX S and OPPO Find X, dual screen phones like the nubia X and Vivo NEX Dual Display Edition, and, of course, the Infinity-O screens from Samsung. If this latest leak is correct, Samsung has yet another wild solution.
According to @OnLeak's "seemingly reliable source", the Galaxy A90 will combine two solutions into one. First, it will have a part of its body that elevates to reveal the camera. The literal twist, however, is that said camera will rotate to face either direction, ala the OPPO N1 back in 2013.
According to new and yet unconfirmed but seemingly reliable source, #Samsung #GalaxyA90 will come with a sliding and rotating camera system (kinda mix between Oppo Find X and Oppo N1 systems) which allows the camera to be used as front and rear camera depending its position... pic.twitter.com/A6NBRzFFvK

— Steve H.McFly (@OnLeaks) February 27, 2019
All of this camera calisthenics is to allow the main camera, which is often the one with better specs and quality, to also be used for selfies. This is similar to dual display phones but with the benefit of having only a single display. You turn the camera around instead of the phone and you keep the costs down by reducing the number of components needed.
While somewhat ingenious, the drawbacks to this system are already known. The delay with the camera popup wastes time, especially when even the main camera has to slide out first. Quick Face ID is nearly impossible if the camera has to slide out and then turn. And all those moving parts mean there's no water and dust proofing to speak of and increases the risk of mechanical failure in the near future.